Do me a favor and just press play before you read any further. This is the perfect soundtrack for this recap and this game.
Ready? Okay. The Winnipeg Jets lost 3-1 tonight to the New Jersey Devils. Was it bad? Yep. Is this going to be a great recap? Not likely. Do I plan on putting as much effort into this as the Jets have into their game? You betcha. Are you going to think I'm drunk? Oh. Oh yes.
Let's do this.
Ten Things
1)
How not to defend: https://t.co/I4sfr67E1M

— Dimitri Filipovic (@DimFilipovic) January 24, 2016
HA. HAHAHAHAHAHAHA. What. Even.
2) Perreault is injured again. He left early in the game with a lower body injury. That's gross.
3) LEE. STEMPNIAK. ON. FIRE. Monsieur Stempniak scored himself the first goal in the game. Then later he got another goal. He was given a chance in the final few minutes to finish out the hat trick but couldn't get it done. I'm actually kind of sad. I love hat tricks. Don't even care if it's against the team I'm rooting for. I just like fun.
#NJDvsWPG pic.twitter.com/BjWMAyAcdp

— New Jersey Devils (@NJDevils) January 24, 2016
4) Mark Stuart is a nightmare. I don't get it. I remember last season I made some offhand comment about Stuart not being super mega great and I got chewed out for it. BUT YOU GUYS. Here are some facts about Mark Stuart for your brainmeat.
Worst goals against per min. Worst relative Corsi. Worst rel Fenwick. Worst rel shots. Worst rel scoring chances. Worst rel high danger SC.

— Garret Hohl (@GarretHohl) January 24, 2016
YEP.
5) One bright spot in the evening was probably Dustin Byfuglien with the Jets only goal of the game and this:
Tuomo Ruutu ignored the flashing "APPROACH WITH CAUTION" signs around Dustin Byfuglien: https://t.co/rh9jGzVoRG pic.twitter.com/jB4shBNtyF

— SB Nation NHL (@SBNationNHL) January 24, 2016
It's going to be a sad day when they trade him away for a bucket of tacos and a tuna fish sandwich....
6) Okay. Let's talk more positives because I feel like this could enter the realm of super mega depressing real quick....
Uh. Auston Matthews would look so good in blue and silver you guys. Like, for real. Those are his colors. He can totally pull off that color combination.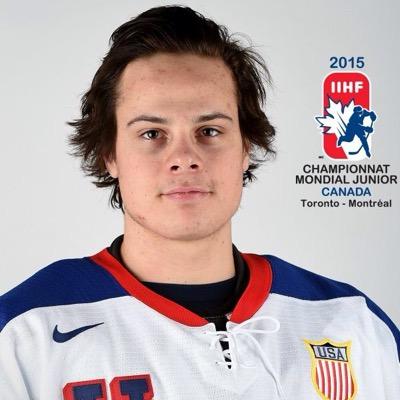 For real. That face. That hair. Blue is your color dahling.
7)
@arcticicehockey @GarretHohl Stepniak had 13 goals this season. Ladd has 10. Stepniak makes $800,000 this year. How much does Ladd want?

— Scott Wilkie (@ScottOCanada) January 24, 2016
8) Do I have any real analysis? HAHA. Have you even met me? You know I don't. Here's Blake Wheeler channeling his inner Steve Perry.
"I won't stop believing in our group." -Wheeler https://t.co/1YVsmERiAc

— Winnipeg Jets (@NHLJets) January 24, 2016
9) Connor Hellebuyck had a kind of rough night out there what with the losing and all. I refuse to crap all over him though. He's still just a baby. I fear the return of one Ondrej Pavelec. Do I think the tandem of Hellebuyck and Hutchinson are what the Jets should roll with? Not necessarily but.... woof.
10)
By reading this tweet you have accepted a great big e-hug from the @arcticicehockey family.

— Arctic Ice Hockey (@arcticicehockey) January 24, 2016
I'm out pic.twitter.com/uVZgOszw6d

— Jacek Eichelski (@Husaria) January 21, 2016