Recap:
For the first time since the return of the Winnipeg Jets 2.0, I chose to not occupy my seat at the MTS Centre and instead let it go to waste. Sure, I tried to sell it, but who in their right mind would pay actual money to watch what the Jets put on the ice last night? My choice to stay at home turned out to be the correct one, as the Jets somehow managed to find a place below rock bottom in their 6-3 dismantling by the Columbus Blue Jackets.
Here is my recap of the game, in visual form (replace "Springfield" with "Winnipeg Jets"):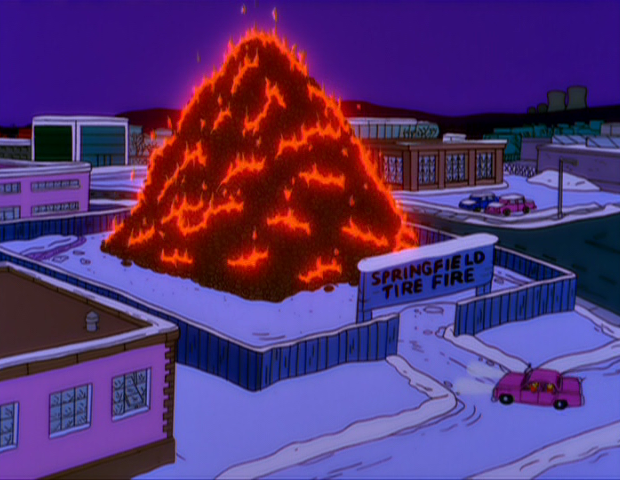 10 Thoughts:
I had to sleep on the results of last nights game before posting this, but I don't feel much better this morning. If I still had any faith in Kevin Cheveldayoff and TNSE, it's gone now. It's so readily apparent that the Jets are begging for a change and that the fix WILL NOT come from within. The status quo is NOT acceptable going forward.

How much better was the blue-line without

Dustin Byfuglien

? What's that you say, they were worse? Huh. Who other than everybody saw that a blueline consisting of

Tobias Enstrom

,

Zach Bogosian

,

Jacob Trouba

,

Mark Stuart

,

Adam Pardy

and

Keaton Ellerby

would be way worse without Buff? 19-year-old Trouba led the team in ice-time and also won the Green Jacket with a game-worst -3, while Stuart played the 3rd most minutes. That is a desperate cry for help if I've ever seen one.


Ondrej Pavelec

allowed 6 goals on 26 shots for a stunning 0.769 save percentage. That drops his sv% on the season to below the 0.900 mark (0.898) for the first time since the opening game of the season. Perhaps even worse, he looked like a pathetic punk out there, throwing pucks around in disgust after making his rare saves in what I can only assume was an attempt to show his disgust with his teammates and their play. This happened a few times. Why would anybody want to play in front of this guy? Hello, compliance buyout.

The Blue Jackets played the night before at home in Columbus, Ohio. That is nearly 2000 km away, and they flew overnight to get to Winnipeg. Yet they skated circles around the Jets for the final two periods when they should have been the tired team. That's an incredible indictment of the Jets.
Eric O'Dell scored his first career NHL goal in the first period to open the scoring, which was excellent to see. I guess the kid actually can produce at the NHL level when not saddled with useless plugs like

James Wright

and Eric Tangradi. Hopefully he continues to get a chance, as he didn't look out of place in 13:48 of ice-time.

Andrew Ladd

owned up to the fact that he was awful last night, which is good I guess, but again the words seem to ring hollow. He's been awful for quite some time now, along with his centerman Bryan Little. Little scored for the first time in 12 games last night, while Ladd has 2 in his last 17.  That's not going to carry the mail, especially if

Evander Kane

will be out for a while.
Olympian Blake Wheeler couldn't get anything going alongside

Olli Jokinen

and

Devin Setoguchi

, as the trio combined for zilch offensively. However, Wheels was the only one of the three who didn't finish with an even plus minus as Blake ended up -2. In fact, each member of LLW did, despite the fact that they didn't play together. That thing about needing your best players to be your best players? Yeah, that didn't happen.

Geez, does that trade for Gooch look worse and worse after every single game. Enjoy our 2nd-round pick this summer, Minnesota. His trade value is likely next to nil right now.
I wonder what was running through Chevy's brain when CBC panned up to this pressbox after I believe the 4th Blue Jackets goal (screen-grab below). Probably something about patience. Seriously, Chevy,  you've got to do something. This team is an embarrassment, and you're the guy at the helm. This is your team. And it sucks. Like, completely awful. People were streaming out of your game mid-way through the third last night, probably because they were tired from all of the booing. Did you hear the boos? Do you even care? Or is this all part of your plan? If it is, your plan sucks. Tick-tock, Chevy. Time to put on your big-boy pants and make a move.