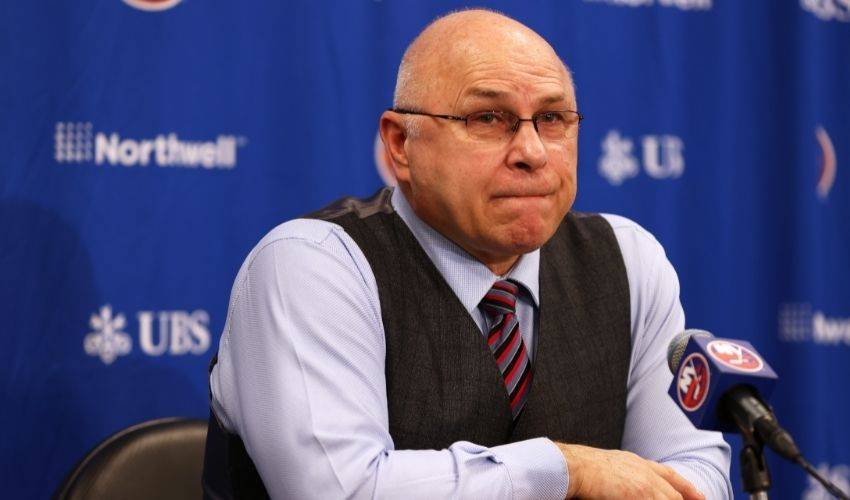 Photo via NHLPA.com & Stephen Whyno - Associated Press
.
Will the Hiring of Barry Trotz Be a Good Thing For the Winnipeg Jets?? Well, since you asked, here is what I am thinking...
.
After reading the recent rumours regarding Barry Trotz that state he should be advising NHL teams of his decision sometime later this week, I find myself sitting here wondering if I should be excited about the idea of Trotz becoming the next head coach of the Winnipeg Jets.
I know that he's the top choice for most teams looking to fill coaching vacancies and that he has had plenty of success in the past with the Nashville Predators and Washington Capitals. I also have heard the criticisms as well, like his defensive structure results in boring games to watch or that he stifles the offensive talents of players like the NY Islanders' Mathew Barzal.
I can't say that I know a ton about Trotz' career, so thought I would take the BigOl'JetAirliner out of the hangar for a reconnaissance of how his teams have done. Possibly that will give me a better idea of what a potential Trotz hiring could bring to the Jets.
.
BIOGRAPHY
.
Trotz started his career as a defenseman before becoming the assistant coach of the University of Manitoba hockey team in 1984-85. He moved onto become the head coach of the Dauphin Kings in the MJHL for the next two seasons before returning to the U of M in 1987-88, but this time as the head coach. Barry stayed there for only 1 season, before he decided to move into scouting with the Spokane Chiefs (WHL) and the Washington Capitals (NHL).
In 1991-92, Trotz moved back into the coaching ranks, first as an assistant coach with the Baltimore Skipjacks (AHL) but was promoted to head coach later in the season. From 91/92 to 96/97, he remained in the AHL coaching the Skipjacks and Portland Pirates. Barry was very successful in the five years he was in the A, with his teams making the play-offs every year (three 1st round exits, one Calder Cup Championship, & a loss in the Calder Cup Finals).
.
The Nashville Predators had their inaugural season in 1998-99 and gave Trotz his first shot at a NHL head coaching position. The Manitoba-born coach did well with the opportunity, holding onto that position for the next 15 seasons. Since Trotz' stay in Tennessee was so long, I'll break my review down into 3 equal phases: the Expansion Era, the Middle Years, and the Final Stretch.
Trotz started off with a bad expansion team in his first 5 years and it's unsurprising that the Predators failed to make the play-offs in the Expansion Era. To give you an idea of the talent Nashville had in their 1st season, their point leaders were Cliff Ronning (53) and Greg Johnson (50) and the Preds ended up with 4th worst record in the NHL with 63 points. The following four years saw Trotz lead his team to point totals between 69 and 80, with the best season being year 3. When looking at Nashville's offense over that period, the team did fairly poorly putting the puck in the net (between 2.23 to 2.43 goals for per game (GF/G). After allowing 3.18 and 2.93 goals against per game (GA/G) in the first 2 seasons, the Predators had 2 top 10 finishes in the final 3 seasons (7th & 9th) within a range of 2.44 and 2.80 GA/G.
The Middle Years saw Nashville's team take a step in the right direction under Trotz' guidance. With some good drafting, the Predators had much better teams in this era and it showed on the stats sheets. The first year of this section (2003-04) saw the Preds make the NHL play-offs for the first time in their history. They made the play-offs for 4 consecutive seasons with point totals ranging from 91 to 110, but Nashville failed to make it beyond the 1st round. The final season of this group saw the Predators fall just short of the play-offs with 88 pts. When looking at the team offense for years 6 to 10, you see that a Trotz led team can put up good numbers (ranging from 2.52 to 3.24 GF/G). Nashville had two great seasons (3rd & 6th in NHL for GF/G), while the other 3 were more middle-of-the-pack (15th to 20th in NHL for GF/G). On the defensive side, the Preds had one bad season (2.65 GA/G for 21st in NHL), one average season (2.73 GA/G for 16th in NHL), and three good seasons (between 2.52 & 2.78 GA/G for 8th to 13th in NHL).
After missing the play-offs the season prior, the Final Stretch era (2009/10 to 2013/14) started off well and Nashville was back in the post-season for the next 3 years (pts between 99 & 104 with 2 top 10 finishes in team points). In 2010-11 and 2011-12, Trotz got his first taste of post-season success when the Preds won a play-off series, only to be ousted in the 2nd round. The final two years of Trotz' time in Tennessee saw his team fail to make the play-offs, with 27th and 19th overall finishes (41 & 88 pts). The final 5 years of Trotz' stay in Nashville only had one year with great offensive numbers (2.83 GF/G for 8th in NHL), but the rest saw poor or bad stats (2.27 to 2.65 GF/G for 18th to 30th in NHL). With the help of a strong defensive core and Trotz' systems, the Preds did well in all but his final year with the team (2.84 GA/G for 23rd in NHL). The other 4 seasons saw good (2.50 to 2.77 GA/G for 10th to 14th in NHL) and one great one (2.32 GA/G for 3rd in NHL).
If you want to draw any conclusions based on Barry's time with the Predators, I think you can safely exclude the first 5 years due to the expansion team talent he inherited. So, if you disregard that, then you see that Nashville finished in the top 16 in points in 6 out of 10 seasons, while qualifying for the post-season 7 times.
When it comes to goals for, the Preds only topped the 3 goals per game twice in Trotz' final 10 seasons. Trotz' Nashville teams split the decade between being in the top 16 in the NHL for GF/G and ending up in the bottom half. They did have top 10 finishes (5th & 8th) and three other good years (12th, 11th, 12th), but also had three below average seasons (18th, 19th, & 21st) plus two bad years (24th & 30th).
.
The 2013-14 season saw the end of Trotz' time in Nashville, but he didn't stay unemployed long as was quickly hired by the Washington Capitals. Before we see how the Caps did with Barry at the helm, let's quickly take a look at how they did the year prior to his arrival. The Capitals finished the 2013-14 season with 90 pts, just missing the play-offs with the 17th most points in the NHL. As a team, they averaged 2.74 GF/G (13th in NHL) and 2.79 GA/G (21st in NHL).
I guess I'll call Trotz' four seasons in the American capital, running from 2014-15 to 2017-18, as his DC Years. Unlike Barry's first NHL head coaching stint, this time he took over a team that barely missed the play-offs while showing that they were in the top half of the NHL offensively, but in the bottom third defensively.
In terms of team point totals and results, Trotz' time in Washinton has to be considered a success. His Cap squads always topped the 100 pt mark, finished in the top 10 in all four seasons (including two 1st place finishes), won a play-off series each year, and of course this culminated in a Stanley Cup victory in 2017-18.
With offensively-talented players like Alexei Ovechkin and Nicholas Backstrom on the team when Trotz arrived, I was interested in seeing how their offensive output changed in the following seasons. In his first season in DC, the Caps improved their goal output from 2.74 (13th in NHL) to 2.89 GF/G (6th in NHL). The next three years saw Washington surpass the 3 goals per game plateau (3.02/3.18/3.12 GF/G), finishing 2nd, 3rd, & 9th in the NHL.
As a defensive-minded coach, I was not surprised to see that Trotz immediately improved team defense. The Capitals went from 2.79 (21st in NHL) to 2.43 GA/G (7th in NHL) in his first season and improved on that the following two years (2.33 & 2.16 GA/G for 2nd & 1st in NHL). His last season saw Washington's defense start to suffer (2.90 GA/G for 16th in NHL) for the first time in the Trotz era, but it was still an improvement in terms of team ranking from what the Caps were doing prior to his arrival.
.
After lifting up Lord Stanley's coveted trophy in 2017-18 with the Capitals, Barry Trotz moved onto the NY Islanders to start his Long Island Era (2018-19 to 21-22). In the season prior to his arrival, the Islanders finished with 80 pts (22nd in NHL) and put up horrible defensive numbers (3.57 GA/G for 31st in NHL). Despite the lack of success in the win-loss columns, NY amassed potent offensive stats (3.18 GF/G for 8th in NHL).
When you look at how the Isles improved after Trotz arrived, some of the stats are pretty amazing. The squad improved by 23 pts in the standings, going from 22nd to 5th in the NHL. Then, almost unbelievably, the Long Islanders went from 3.57 to 2.33 GA/G - a jump from 31st to 1st in the NHL!! That dangerous offense ended up suffering some though, dropping to 2.72 GF/G - almost a half a goal per game decrease from the prior season (going from 8th to 22nd in NHL). New York added a series win in the post-season, before exiting in the 2nd round.
In year 2, the Islanders ended up with 80 pts in the first pandemic-shortened NHL season. The teams' offense numbers stayed pretty much the same (2.78 GF/G for 22nd in NHL) and they continued to play well defensively (2.79 GA/G for 9th in NHL). New York squeaked into the expanded play-offs and ended up making some noise, winning three series before losing in the Eastern Conference Finals to the Tampa Bay Lightning.
Following the two years of play-off success, hopes were high going into Trotz' 3rd season. The 2020-21 season was another pandemic-impacted affair, this time the regular season was reduced to 56 games. The Islanders had 71 pts in the shortened season, good enough for 12th in the NHL. Despite putting up a Trotz-era low 2.71 GF/G, NY ended up moving up one spot for 21st in the NHL. Team defense continued to be a strength for the Isles, limiting opponents to just 2.23 goals per game (2nd in NHL). Once again the "other" New Yorkers made their presence felt in the post-season, knocking off the Penguins and Bruins before falling to the eventual Stanley Cup champion Lightning in 7 games.
This year, expectations were even higher for the NY Islanders and while they put up similar offense/defense numbers (22nd in GF/G and 7th in GA/G), the squad's win-loss record suffered a decline. The Isles finished with only 84 pts (20th in NHL) and missed the play-offs for the first time with Trotz at the helm.
You can clearly see by the stats above the reason why many people were shocked when the NYI management decided to move on from Barry Trotz. A massive change in team defense, going from worst in the league to four consecutive top 10 seasons (including two top 2). Great play-off successes, winning 6 series in 3 years including back-to-back Eastern Conference Final appearances. However, missing the post-season this year, combined with a failure to improve the goals for statistics over his tenure and talented assistant coach Lane Lambert waiting in the wings, eventually led to an end of Trotz' time in NY.
.
FINAL ANALYSIS
.
When you look at Trotz' career coaching stats, he definitely has put up some impressive numbers over his 23 year NHL head coach seasons. The teams he coached have made the play-offs on 14 occasions, while finishing with top 16 team pts in NHL thirteen times. His defensive systems have resulted in his squads putting up top 16 GA/G statistics in 18 of his 23 seasons with the reins in his hand. That includes his teams doing that in 16 of the last 17 seasons, while being in the top 10 nine times in the past 12 campaigns.
The numbers aren't so favorable when it comes to team scoring, though his teams have 6 top 10 finishes in goals for per game (four of those with Washington). Trotz-led line-ups have ended the regular season with top 16 GF/G stats in 9 of his 23 years. With the Predators, his team had a period of four years where they had sustained offensive success (5th to 12th in NHL) and one other year in the top 10 (8th). When it comes to his time in Washington, the Capitals went from a good scoring team to a great one (13th to 6th/2nd/3rd/9th). The Islanders were an absolute mess in their own end when Trotz took over, but they had no problems beating opposing goaltenders. With Barry behind the bench, the Isles saw approximately a .40 goals per game decrease in scoring, plummeting them in the GF/G standings from 8th to 22nd. The Isles couldn't replicate the success the Capitals had in the Trotz system in terms of scoring goals, making the team adept at keeping games close and learning to win tight contests. All that assisted the Islanders to have strong play-off showings for three consecutive seasons.
.
QUESTIONS & ANSWERS
.
What, if anything, does the above information tell us about how a Trotz hiring by the Winnipeg Jets would impact the team? If you look at the Winnipeg Jets stats from this season, you see a team that finished with 89 pts (19th in NHL), 3.05 GF/G (17th in NHL), and 3.09 GA/G (20th in NHL).
Starting with Winnipeg's biggest weakness, allowing too many goals against, you see that all of the teams Trotz took over had defenses that were worse than 20th in the NHL and improved them all 3 times. Yes, it took a bit longer with the Preds but he eventually got them there. The Jets fit that bill perfectly, so we definitely should see some improvement in the D zone. When Nashville and Washington had their success with Trotz, they at least had one true top pairing d-man on their rosters. As for the Islanders, a 15th overall draft pick, Ryan Pullock exploded to becoming one in his 2nd full NHL season, the first under Barry's system. There is no doubt that he has been behind the bench when young players have developed into top 4 defenders, with Roman Josi and Ryan Ellis just a couple examples. In the end, I think it's safe to say that the Jets' defense would improve with Barry Trotz in charge. But just how much is left to interpretation really. While Winnipeg doesn't have a true top pairing d-man, they do have a bevy of young defenders that could possibly blossom under the veteran coach's tutalege, like Ville Heinola, Dylan Samberg, Johnny Kovacevic, Declan Chisholm, & Leon Gawanke. Who knows, maybe he could even save Logan Stanley's career.
How often would a Trotz-led Winnipeg team score? Well, the crystal ball is even cloudier when trying to predict that. Multiple teams have shown that despite his defensive-leaning system, they can still put the puck in the net at a good pace. Really, the idea that a Trotz-led team can't score comes from his stint on Long Island, where his squads failed to climb the goals for standings in any of Trotz' 4 seasons.
Now, is that because he didn't have the talent in New York that he did with the Predators and Capitals or has the recent shift to a more offensive league started to show a potential weakness is his tendencies? Add that to the long list of things that I don't know.
Will the Winnipeg Jets be a play-off team with Barry Trotz in charge? NHL teams with Trotz setting the line-ups often respond by securing a play-off spot and then continuing to win in the post-season. When games get tighter and the refs' idea of a penalty varies drastically from incident to incident, his teams have won at least one play-off series in each of the past 7 seasons. So I would be leaning towards "yes".
Could the Winnipeg Jets use some of that? Absolutely!
What about fixing the issues in the Jets' dressing room and changing the culture? Off the top of my head, I can't really think of issues he walked into in his other coaching stints. I do know that he was able to get offensive-first players like Ovechkin & Backstrom to become better 2-way players in his stay with Washington. And I definitely can easily think of a couple of Jet players that could benefit from that kind of transition.
After writing all that, have you come to any conclusions? Still on the fence? Well, my answer to both those questions is clearly "yes".
In terms of conclusions, I no longer have any doubts what-so-ever that a Trotz hiring would immediately improve Winnipeg's defensive play. While he may be able to drag the Jets up to becoming an elite NHL team, that is far from guaranteed. At the minimum, I think Barry would give our team a pretty good shot at making the play-offs next season. If the Jets lose out on the Connor Bedard sweepstakes and do that, I think recent history supports the feeling that Winnipeg could become a hard team to knock out in the chase for the Cup.
That being said, I'm still unsure if hiring Trotz would be the best decision for Chevy/Chipman to make for the future of the franchise. Part of me still believes deeper cuts need to be made to Winnipeg's roster and I don't think any of that happens if we end up getting him. It will be Cup or bust, possibly leading to Scheifele walking to free agency for nothing after 2 seasons in an attempt to extend a perceived "window". I wonder if it would it be better long-term to fall a bit further and be able to grab a game-changer like Bedard or an elite defenseman with a high draft pick at next year's draft. I also want to know why his last 2 gigs only lasted 4 seasons, despite his teams being very successful. Could this be a sign of potential personality issues with fellow management or the players.
A Barry Trotz hiring announcement by the Winnipeg Jets later this week definitely won't make me sad if it occurs. He'll make the team better and more competitive, but will it end up forcing Chevy to sign a bad contract in the future to "keep the window" open.
Possibly the recent news that a local Winnipeg brewery is offering Trotz free beer for life if he accepts the Jets coaching position will make Barry come back to Manitoba. If it happens, I'll be hoping it turns out to be the best decision in the end.
.
Not sure how many people are coming to the site during the off-season, but I would be interested in hearing how you feel about a potential Trotz hiring. Did anything in the article either re-affirm or change a previously held opinion?