Manitoba Moose Playoff Primer - Part 2 - Team & Player Stats/Fight For Playoff Icetime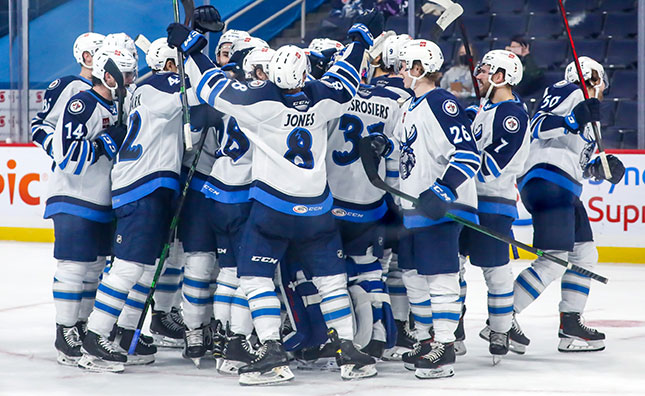 Courtesy of moosehockey.com
.
In order to advance deep in the Calder Cup Playoffs, Manitoba will have to win two series within the AHL's Central Division. In the play-in round, the Rockford IceHogs (37-30-4-1) will host the Texas Stars (32-28-6-6) in a best of three series, with the winner going on to face the 1st place Chicago Wolves (50-16-5-5) in a best of five. The 2nd place Manitoba Moose (41-24-5-2) will face the 3rd place Milwaukee Admirals (39-28-5-4) in the other series to determine who will go on to the Division Finals.
I continue to learn new things about the AHL and discovered that the higher ranked team gets to choose how the series' games are played out. In Manitoba's case, they opted to start the best of 5 series with 2 games in Milwaukee (May 6 & 7th), followed by 3 straight in Winnipeg (May 11, 13, & 15th). Not sure what the other option(s) was, but the only other 5 game series currently scheduled is following a more traditional two home games, two away games, & one home game. I guess with the Moose's choice, the team guarantees that they will be trying to close out a series win on home ice, but with a sweep you'd end up with the revenues from only 1 home game.
.
Here's how Manitoba has done against their division rivals:
AHL Team / NHL Affiliate / Overall Record / Home Record / Away Record
*Wins - Losses - OT Losses - SO Losses*
Chicago Wolves / Carolina Hurricanes / 4-2-2-0 / 3-1-0-0 / 1-1-2-0
Milwaukee Admirals / Nashville Predators / 7-4-1-0 / 3-3-0-0 / 4-1-1-0
Rockford IceHogs / Chicago Blackhawks / 3-5-0-0 / 3-1-0-0 / 0-4-0-0
Texas Stars / Dallas Stars / 6-2-0-0 / 3-1-0-0 / 3-1-0-0
Iowa Wild / Minnesota Wild / 4-3-0-1 / 2-1-0-1 / 2-2-0-0
Grand Rapids Griffins / Detroit Red Wings / 6-1-1-0 / 4-0-0-0 / 2-1-1-0
The Moose did well versus the Central Division this season, winning 3 series out-right, splitting 2 other series, and only losing to Rockford. When playing in Winnipeg, the Jets' AHL team won 4 of 6 series and drew the other two. The road was a bit rougher on Manitoba, with 2 series wins, 2 split series, and 2 losses. Their success this season should at least give the Moose a chance to beat two of these teams to get to the AHL Conference Finals.
.
TEAM STATS:
Manitoba Moose - 41 wins, 24 losses, 5 OT losses, & 2 SO losses.
Winning percentage of .618 in the regular season (8th in AHL).
Won .722 of their home games (4th in AHL) and .514 on the road (17th in AHL).
3.16 goals for per game (15th in AHL)/2.83 goals against per game (6th in AHL).
When playing at home, they scored 3.53 goals per game (6th in AHL) and allowed the opposition to score 2.67 (7th in AHL).
Allowed 3 goals per game during aways games (8th in AHL), while only scoring 2.81 goals (22nd in AHL).
19.5% on the PP (14th in AHL)/82.3% on the PK (8th in AHL).
Had 11.76 PIMs per game (7th lowest in AHL) in the AHL this season, but were SH 3.61 times per game (11th lowest in AHL). Manitoba earned 3.56 PP opportunities per game during the regular season (23rd highest in AHL).
.
INDIVIDUAL PLAYERS:
* - indicates signed to a contract with the Winnipeg Jets.
TEAM TOP 10's
Points
Mikey Eyssimont - LW - 42 pts *
Jeff Malott - LW/RW - 41 pts *
Cole Maier - C - 37 pts
Leon Gawanke - RD - 36 pts *
Nicholas Jones - RW/C - 34 pts
David Gustafsson - C - 30 pts *
Johnny Kovacevic - LD - 30 pts *
Austin Poganski - RW - 30 pts *
Declan Chisholm - LD - 30 pts *
CJ Suess - LW/C - 29 pts *
.
Points/Game
Cole Perfetti - LW/C - .88 pts/gm *
Daniel Torgersson - LW/RW - .75 pts/gm *
Mikey Eyssimont - LW - .72 pts/gm *
Jeff Malott - LW/RW - .66 pts/gm *
David Gustafsson - C - .64 pts/gm *
Ville Heinola - LD - .63 pts/gm *
Austin Poganski - RW - .61 pts/gm *
CJ Suess - LW/C - .61 pts/gm *
Nicholas Jones - RW/C - .57 pts/gm
Declan Chisholm - LD - .57 pts/gm *
Morgan Barron - C/LW - .57 pts/gm *
.
OTHER INTERESTING STATS:
Team leader Eyssimont's 42 pts ended up in the 81st spot on the AHL's scoring leader board, while Malott's 41 pts was the only other Moose to break into the top 100 (97th).
Gawanke's 36 pts put him in the 15th spot in AHL defensemen scoring, Chisholm & Kovacevic's 30 pts got them the 34th and 36th places respectively, and Heinola's 26 pts in less games landed him in the 54th spot. Shows the strength of Manitoba's defense to have 4 players in the top 60.
Goal Scoring Leaders: Malott (23 goals), Eyssimont (18), Maier (16), Gustafsson (15), & Suess (14).
PP Goal Leaders: Malott (10 goals), Gustafsson (6), Barron/Heinola (5), & Gawanke (4).
Malott led Manitoba with 8 game winning goals, with Suess & Gustafsson coming in a distant 2nd with 3 GWGs.
Accurate Shooters: Torgersson (33.3% shooting), Gustafsson (14.7%), Vesalainen (14.3%), Malott (13.9%), & Barron (13.9%).
Dish Masters: Gawanke (26 assists), Eyssimont (24), Meireles (22), Jones (22), & Heinola (21).
Kovacevic led the team in plus/minus with an impressive +23. Seven other players ended up +10 or better: Eyssimont (+15), Malott/Jones/Maier (+11), & Samberg/Phillips/Egle (+10).
When you look at Manitoba's top 6 defensemen, four of them have positive plus/minus ratings and the other two are at -1. That really shows how strong the D is on this Moose team.
The Goon Squad: Polei (97 PIM), Oligny (91), Eyssimont (90), Maier (57), & Malott (55). On the other side of the spectrum, Gustafsson only took 10 PIMs in 47 games, Lundmark got nabbed for 14 PIMs in 57 games, and Gawanke was in the box for 19 minutes in 65 games.
Shootout Stars: 5 different players scored on their only shootout opportunity, including Gawanke & Reichel. The best of the more regular shooters were Malott (2 for 3), Eyssimont (3 for 6), Maier (1 for 2), and Gustafsson (2 for 5).
.
FIGHT FOR PLAYOFF ICETIME:
* - indicates signed to a contract with the Winnipeg Jets.
Forwards
Top Line : Eyssimont* / Gustafsson* / Malott*
All Moose : Polei / Maier / Jones
While nothing is guaranteed in terms of line combinations, since the Moose haven't had the full compliment of all these players to choose from before. However, there is a good chance that the above 2 lines stay together. The Top Line have been Manitoba's best trio since Cole Perfetti was called up to the Jets and all three are among the team's best scorers. I call them All Moose because they are all on AHL contracts with Manitoba and the line has become the heartbeat of the Moose in the latter part of the season. A great mix of tenacity on the forecheck and the ability to capitalize on their chances, this group is often the coach's choice to send out when the team needs to "win" a shift to change momentum.
.
Suess* / Barron* / Poganski*
Vesalainen* / L. Johnson* / Reichel*
Coach Morrison has many options to fill out the forward lineup, but these 6 probably have the inside track at those spots. Barron will probably be slotted in at one of the center openings, but how the rest plays out is up in the air. All but Poganski & Vesalainen can play center, so there are a myriad of combinations to work with. However, with question marks surrounding the health of right wingers Poganski & Reichel, Manitoba may have to look for help from those listed below. Fortunately both Vesalainen & Johnson can play right wing, so the reinforcements can be left wingers or even a center.
.
Torgersson* / Nikkanen* / Meireles
Caron / Bongiovanni* / Lynch
-------- / Hutchinson / Egle
If the Moose were looking for potential right wingers, they have a few options in Meireles, Lynch, & Egle, who have all played a significant number of games this year. Young Torgersson is also fond of playing on his off-wing and probably provides the best top 6 option, but that is going on a limited sample size. When it comes to centers, the staff also have solid depth to fall back on, at least in terms of defensive play as I'm not sure how much offense they will get.
.
Defense
Heinola* Kovacevic*
Samberg* Oligny* (LD)
Chisholm* Gawanke*
There are fewer questions when it comes to the defensive lineup, as the above 6 players will likely get the majority of icetime. The only real decision to make is whether to play Heinola or Samberg with Kovacevic on the top pairing. Earlier in the year, it was Ville playing with the Moose captain, but Heinola has been playing so great lately with Kovacevic that they might opt to keep them together for the playoff run.
.
Phillips* Lundmark*
Stewart
Manitoba has decent depth to rely on in case injuries start piling up, with Lundmark & Phillips likely to be the first options to come out of the press box.
.
Goaltenders
Berdin*
Cormier
It's clear that the Manitoba Moose will be relying on Berdin to take them all the way to the Calder Cup Finals. When playing at the top of his game, the Russian can be a difference-maker, but the question will be whether he can keep playing at that level throughout the playoffs. Cormier is the most consistent option for the backup position and will have to shoulder the load if Berdin goes down.
.
Holm*
Desrosiers*
If injuries do pop up, I'm really not sure which of these guys will get the tap from the coaching staff. Holm has been up & down in his performance, but Desrosiers hasn't played a game in a long time.
.
Well, hopefully that gives you all some idea on whether you want to purchase a AHLTV subscription to watch the Moose or not in the Calder Cup Playoffs. I'm hopeful that they can make a run, but this franchise tends to disappoint you, so trying not to let my hopes get too high.