Manitoba Moose Playoff Primer - Part 1 - Player Reports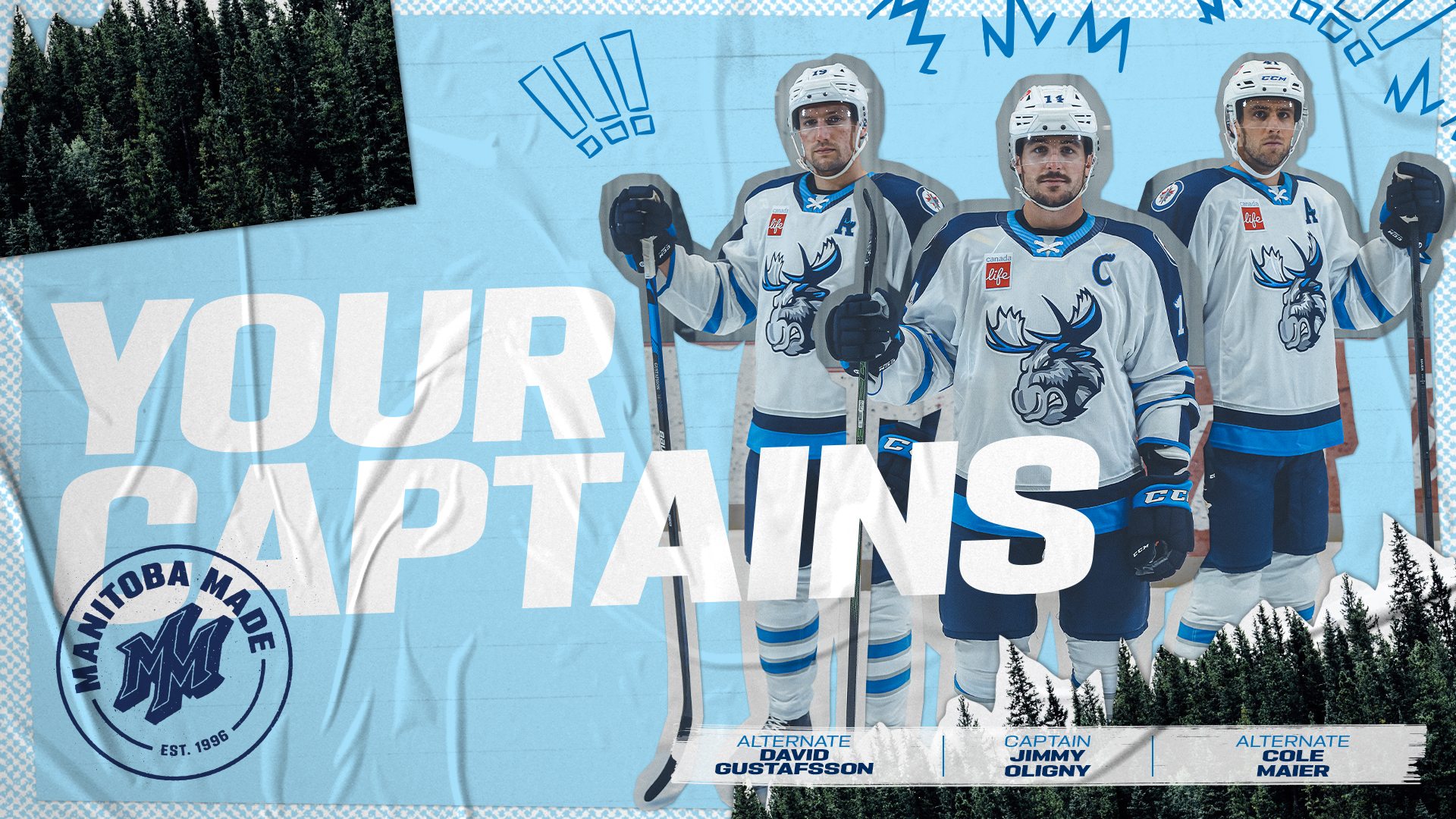 Courtesy of moosehockey.com
.
Now that the Winnipeg Jets 2021-22 season in the books, perhaps the thought of watching the Stanley Cup Playoffs or possibly cheering Dubois on if he plays for Canada at the World Championships (May 13th to 29th) just isn't enough hockey for you. Well, don't feel bad about it, I'm in the same boat.
Since I've been following the Manitoba Moose for the entire season, it was an easy decision to drop the $30 US to gain access to the AHL playoff games. However, for the majority of you who likely couldn't pick Evan Polei out of a lineup, you might be less sure about parting from some of your hard earned money to watch minor league hockey. Well, the following articles will hopefully provide enough information about the team and individual players to help make that decision.
Let's start by taking a look at the players the Moose have available for the Calder Cup Playoffs:
PLAYER SCOUTING REPORTS:
Forwards (20)
Mikey Eyssimont: Listed at 6' 180 lbs on the Moose's site, the 25 year old American forward definitely plays a lot bigger than that indicates. A 5th round pick by the LA Kings in 2016, Eyssimont spent 3 years with their AHL farm team and averaged around .50 pts/game. He has had a career year in his first season with Manitoba, increasing his production to .72 pts/game. A feisty player always in the midst of scrums, Eyssimont is an agitator similar in style to Winnipeg's Dubois and that results in drawing calls for and against him. Consistent production has resulted in Mikey being either at or near the top in all offensive categories. Winnipeg's GM won't have to worry about Eyssimont this off-season, as he is under contract for another year.
David Gustafsson: Coming in at 6'2" 200 lbs, the 22 year old Swedish center has the ability to play a two-way game. The Jets' 2nd round pick (2018) is good at winning face-offs and playing a defensively responsible game. Effective at getting in on the forecheck and at times can use his size to make power forward moves. Gus isn't talented enough to really carry his linemates, but if he is surrounded by similar players the line will definitely produce. With 15 goals and 15 assists this year, David has shown that he can contribute by both scoring goals and setting them up. An RFA this off-season, the Winnipeg Jets will have to come to terms with Gustafsson and he won't be waiver-exempt next year. I think he should be on the Jets' opening day roster next season, but I said that this year too.
Jeff Malott: An undrafted player who signed with the Jets, Malott is a big forward (6'3" 204 lbs) that can skate and score. Armed with the strength to fight in front of an opponent's net, the Ontario-native gets his share of garbage goals/assists. Over his two seasons with Manitoba, Jeff has used his great 1-timer to do damage on the powerplay and that helped him to lead the the Moose in goals. On the right side of the plus/minus rating in both seasons in the AHL shows that Malott can play a good 2-way game. The Jets will have to make a decision this off-season regarding whether to re-sign the Canadian forward, but as he's still an RFA despite being 25 years old I think Winnipeg will get something done to provide organizational depth at the forward position.
Kristian Vesalainen: The 24th overall pick in the 2017 NHL draft has definitely failed to live up to that so far. Despite being 6'4" 228 lbs and having the ability to skate really well, the big Finn hasn't found a way to be offensively effective consistently at either the NHL or AHL level. Flashes of the things that made Chevy select him so high occur, but not often enough. Ves has an absolutely powerful wrist shot, but often takes too long to let it go, allowing a defender to deflect his attempt. His 1-timer is hard too, but he needs to work on dialing it in as he tends to miss high on the PP. Could be a very important playoff run for him, as he will not be waiver-exempt next year and will likely need to impress the people who end up making the 2022-23 Winnipeg Jets opening day roster. Vesalainen will be an RFA this summer and he'll likely be re-signed, since I can't see the Jets giving up on the 22 year old yet.
Morgan Barron: The large forward theme is continued as we get to 6'4" 220 lb Barron, who was acquired in the Copp trade. A 6th round pick by the NY Rangers in 2017, he debuted with a point per game in the AHL with Hartford. The Canadian center's production decreased this season in the AHL, partly due to his shooting percentage taking a dive after he joined Manitoba. He appears to skate well enough and isn't scared to go to the front of the net to create havoc. Morgan finished the season well with the Jets and has shown signs that he could be a part of a productive bottom 6 line. Since the Winnipeg Jets need more big physical players, it's probably a good thing that they have Barron signed for next year at $925,000K (waiver-exempt).
Austin Poganski: A 6'2" 205lb winger, Poganski's season has been a bit up & down. A 4th round pick (2014) by St. Louis, he started the season off really well playing with Gus & Perfetti, but his offensive output has decreased since his mid-season stint with Winnipeg (nothing like playing in the Jets' bottom 6 to decrease your scoring confidence). Currently dealing with an injury, it is not entirely clear whether he will be good to go when the playoffs start. Austin just fell short of his highest AHL point total of 31, but with 1 pt less in 10 less games he had his best pts/game rate of his career. Winnipeg's GM will have to decide whether to try to bring the 26 year old American back next season for AHL depth, but Poganski will be a UFA so can field other offers.
CJ Suess: Drafted by the Winnipeg Jets in the 5th round (2014), the 6' 200 lb forward has become a mainstay with the Moose. In his 4th full season with Manitoba, CJ had a career year in goals/assists/points. He started off ice-cold in terms of goal scoring, but a strong finish to the season allowed him to get close (13.6%) to his career average shooting percentage (16.2%). A UFA at the age of 28 this off-season, his time in Winnipeg's organization may be coming to an end. If he doesn't get any better offers then Manitoba probably would be happy to bring him back on an AHL deal.
Luke Johnson: The 6' 180 lb right winger was originally drafted by the Chicago Blackhawks in the 5th round (2013) and he's had a season to forget. He started off on fire, but then an injury put him on the sidelines for almost 3 months. Johnson came back and was putting up points once again before another injury took him out for 2 more months. Since he came back this last time, Luke's heavy shot has been off-target and his production fell below the .5 pts/game mark. He plays a gritty game, so he can still be effective if he's not scoring 5 on 5. However, Manitoba will hope that the American can refind his scoring touch in the playoffs, as he and Vesalainen are trigger men on the PPs. Johnson will be a 28 year old UFA this off-season and he may find it hard to get a contract with either the Jets or Moose.
Kristian Reichel: Undrafted, Reichel has worked hard to become a good 2-way player in the AHL. He's had some injury issues this year, limiting him to just 30 games, yet he still managed to match his career-high in assists. At 6'2" 190 lbs, the right winger isn't afraid to play physically and is adept at cycling the puck & on the forecheck. He has a decent shot and flirted with a 20 shooting percentage in his early career, but since then it's dropped to around 10%. Reichel was awarded with a 2 year contract extension in the middle of the season, so the 24 year old will be donning the Moose uniform again in 2022-23.
Evan Polei: At 6'2" 296 lb, Polei is the first Moose willing to drop the gloves when the need arises. That isn't all the 26 year old winger brings to the table though. He has a knack for creating turnovers in the offensive zone, allowing his more offensively talented linemates (Maier/Jones) to take advantage. Good defensively, with only 1 of his past seasons on the bad side of the plus/minus stat and a career-best +8 this year. He also sports the team's best hockey hair, with black hair flowing out of his lid. The Canadian is on his 4th AHL team, but may have found a home because Polei's first year as a Moose resulted in a career year offensively, including 12 goals.
Cole Maier: In his 3rd full season with the Manitoba Moose, the 6'1" 200 lb center has delivered his best season, doubling his previous season-high goal total and getting 2.5 times as many points. It's not just his offensive game that has improved, as the 27 year old has went from a -7 to even to +11 over his career. A key component on the penalty kill, Cole has also chipped in on the 2nd PP unit. It's always good to have some players that seem to go at full speed all the time, as their energy is contagious. Maier fits that bill and will play a big role in trying to shut down one of the opponent's top 2 lines in the playoffs.
Nicholas Jones: A four year AHL veteran that started his career with the Hartford Wolf Pack. The 5'11" 186 lb forward joined Manitoba last season and didn't have much success due to a low shooting percentage (4.9%). This year, the 26 year old right winger/center's accuracy has returned and he put up career numbers in all categories. Jones can put the puck in the net, but his real strength is his passing. Along with Maier & Polei, they have been able to control the flow of play most of the time and will play a key role in Manitoba's chase for a first Calder Cup trophy.
Greg Meireles: The right handed forward has offensive skills, especially when it comes to setting up his teammates. At 5'11" 182 lb, Meireles isn't going to out-muscle many opponents and as a result, his defensive game isn't always the best. A 6th round draft pick (2019) of the Florida Panthers, Greg has led the Moose in rookie scoring this year (27 pts in 49 games). His status for the start of the playoffs is uncertain, as the 23 year old has been out of the lineup the past couple weeks. If healthy, Meireles may be one of the first options to come out of the press box in the playoffs if one of the players listed above can't go.
Bobby Lynch: Entering his 2nd full season with Manitoba, the 6'2" 173 lb right winger put up the best numbers on his career (46GP/8G/13A). A very fast skater with a powerful shot, he scored some impressive goals but more often than not Lynch ends up on the wrong side of the goal differential. The 24 year old forward may get a shot at playoff ice-time if injuries to right handed forwards like Poganski, Reichel, & Meireles keep them out. However, all the players listed below will be after the same spots.
Thomas Caron: A 21 year old rookie in the AHL this year, Caron got into 40 games (3G/3A) with the Moose and showed a willingness to stand up for his teammates (3 fights). You probably shouldn't expect much offense from the Quebec-native, but the the 6'2" 201 lb left winger will always be happy to bang & crash. Since the first playoff series finds Manitoba facing a big & physical Milwaukee squad, Caron's toughness may get him on the ice if the Admirals get too rough with the Moose's better players.
Haralds Egle: The native of Latvia was coming off a rookie season that saw him put up 4G/1A in 25 games. The 5'10" 196 lb right winger has an offensive upside and he showed that in limited minutes (30GP/5G/9A) this year. With a +10 rating and 2 game winning goals, Egle used his speed and vision to make an impact at both ends of the ice. The 26 year old filled in very well for Polei on the Maier/Jones line in the final game and could be an option if Coach Morrison wants to try to increase it's offensive abilities.
Nick Hutchinson: At 27 years it's getting old to make your AHL debut, but that is where Hutchinson found himself this season. He got a try-out with Wilkes-Barrie that lasted 5 games (0 pts), then Manitoba offered him a second chance. The right-handed forward ended up turning the opportunity into a Moose contract, getting 7 pts in 27 games. Typically, the 6'3" 200 lb New Yorker will fill the 4th line center role, but not sure whether he will beat out newcomers Nikkanen or Bongiovanni if the need arises in the playoffs.
Daniel Torgersson: A 2nd round pick in 2020, the 6'3" 220 lb winger got into 4 AHL games this season with Manitoba. The big Swede was held off the scoreboard in his first game, but since then has added 2 goals and an assist in the last three. Both of the 20 year old's goals came from in or near the blue paint of the goalie crease, where he isn't afraid to use his size to battle for position. I've been impressed with his outlet passing, allowing smooth exits from the defensive zone when the puck is played along the boards on his side. Fit in well with Manitoba's cycle in the offensive zone system, winning battles & races for pucks. Of the new guys, I would have to think Torgersson has the best shot at breaking into the playoff line-up. Daniel's deal with Winnipeg doesn't start until next year, so if the Jets make major changes up front in the off-season he might have a shot at making the team. Most likely he starts with the Moose and attempts to force his way into the NHL with his play.
Henri Nikkanen: Winnipeg's 4th round pick in 2019, the 6'4" 200 lb center wasn't able to find the scoresheet in his 4 AHL games. He did get a few scoring chances and plays a good defensive game, shown by his 4 shots and +2 rating. Nikkanen appears to be a good face-off man, getting really low on his stick to pull the puck back to his defensemen. Henri has already picked up the nickname Hank, so hopefully that shows that he is fitting in with his new teammates. The 21 year old isn't really aggressively physical, but doesn't avoid it and fights for position in front of the net. Possibly another Adam Lowry, but hopefully he shows a bit more offense when he starts his 3 year contract next season with the Winnipeg Jets & plays for their farm team.
Wyatt Bongiovanni: An undrafted American who worked his way up through the NCAA system to become captain of his team. The 6' 195 lb center played 3 games before the regular season ended, mostly in the bottom 6. He had a great chance when he centered Eyssimont & Malott, but had to miss a large chunk of that game getting stitches and the line never really got going. Bongiovanni couldn't pick up a point, but did manage 2 shots and a +1 rating in his limited time. The fact that the Moose coaching staff seem willing to play him at center makes you think that he might be able to fill that spot in the NHL if he ends up being a rare diamond-in-the-rough. Under contract for 2 years with the Jets, the 23 year old will get to show the fans & coaching staff what he can do in a full AHL season.
.
Ville Heinola - Courtesy of moosehockey.com
.
Defense (9)
Ville Heinola: The 20th overall pick of the 2019 NHL Draft, the 5'11" 185 lb defenseman entered his third season in the Winnipeg Jets organization. The 21 year old really struggled with his shooting accuracy (4.4%) this year, yet Heinola's point production (41GP/5G/21A) went up from last season (19GP/4G/7A). Since Samberg was called up by the Jets, Ville has stepped into the top pairing with Kovacevic and really elevated the level of his play. Great skating and vision allows him to create so many opportunities and the young Finn is the key to success on the powerplay. Whether playing on the top pairing or with Oligny/Lundmark, the talented d-man will play a large role in Manitoba's quest for the Cup. With 2 years remaining on his ELC (waiver-exempt), one of the more interesting things to watch this off-season will be to see how (if) Winnipeg makes room on the left side next year.
Dylan Samberg: In what was likely a break-through year for the 6'4" 216 lb defensman, Samberg finally got a taste of the NHL. A steady LHD that plays a great positional game, Winnipeg's 2nd round pick in 2017 has paid off. In each of his two AHL seasons, Samberg has played 32 games and his points increased from 7 to 12. He also almost kept up with Heinola in NHL scoring, getting 5 pts in 14 games to Ville's 5 pts in 12 games. More impressively, the 23 year old finished on the right side of the plus/minus scale in both leagues (+11 AHL/+3 NHL). For most of the year, Dylan has been teamed up with Kovacevic but the coaching staff may opt to play him with Oligny or Lundmark in the playoffs. The American d-man will be entering the final year of his ELC (waiver-exempt) with the Jets and I really can't see a scenario where he isn't in the NHL at the start of next season (please Chevy, don't trade this guy).
Leon Gawanke: The German has once again shown the promise he displayed as a rookie, after having a down season last year. At 6'1" 198 lb, Gawanke is a strong skater and a good 2-way defenseman. Drafted by Winnipeg in the 5th round (2017), the right hander has found a goal scoring touch, putting up career highs in goals (10) and shooting percentage (7.1%). However, it's typically his passing that stands out most. Whether it's the recent example of a textbook slap-pass to set up a goal or one of the many long stretch passes that resulted in a breakaway, Leon is always trying to get the puck to a teammate. The 22 year old is also adept at blasting 1-timers from the point and is one of the trigger men on the PP units. Gawanke is an RFA this off-season after finishing his entry level contract, so he's another name on Chevy's to do list. Since he will no longer be waiver-exempt, it may take Winnipeg really feeling he is ready before he gets a call up from the Moose rather than risk losing him for nothing. Or he could possibly be moved for other assets?
Declan Chisholm: A 5th round draft pick in 2018, Chisholm was entering his 2nd AHL season this year. The offensively gifted lefty has blossomed playing along side Gawanke, sporting a 11.8% shooting percentage and 9 goals in the regular season. A mid-sized defender at 6'1" 190 lb, he uses his skating skills to win races for dump ins and his good vision to make smart passes to limit time spent in the defensive zone. A real strength of this Manitoba team is their defensemen and Declan is a big part of that. At 22 years old, Chisholm will be entering the final year of his ELC next season and will be waiver-exempt. Depending on what happens during the off-season, the Canadian d-man might find himself playing top pairing minutes with Gawanke next year for the Moose.
Johnny Kovacevic: The 6'5" 220 lb defenseman has held down the right side of the top pairing all season long. Since being drafted by Winnipeg in the 3rd round (2017), Kovacevic has had leaps of improvement in each of his 3 AHL seasons. This year, the Ontario-born defender put up career highs in every category, helping the Moose have three d-men with over 30 pts. Johnny gives Manitoba another 2-way defenseman to deploy and his 11 goals led the team from the backend. One of the more impressive things about Kovacevic is that his worst plus/minus rating over three AHL seasons is +10. The RHD will be turning 25 in the off-season and as an RFA, will have to negotiate a new deal. Like his fellow right hander Gawanke, Kovacevic will be losing his waiver-exempt status next year. I think Winnipeg should give him a long look in the pre-season because he could make a good bottom pairing or extra defenseman with size and proven defensive capabilities.
Jimmy Oligny: The first non-Winnipeg Jet on the defenseman list, Oligny was entering his 8th AHL season. At 5'11" 206 lb, Manitoba's captain doesn't contribute offensively that often (17 pts in 67 games), but he brings a nastiness to the team that helps against the more physical opponents. Typically the veteran d-man is good defensively, but does struggle under a heavy forecheck. Always willing to stand up for the guys on his team, he provides something his top replacement Lundmark doesn't. Oligny should be extra motivated in the Calder Cup playoffs, with the chance of playing against both his former teams (Milwaukee & Chicago).
Simon Lundmark: Winnipeg's 2nd round pick in 2019 made his North American debut this season, getting 14 pts in 57 games. He really did well against Iowa this year (6 pts in 8 games) and had 4 pts in 6 games when he was called on to play on the top pairing. The young Swede has continued to improve the level of his play throughout his rookie season. Lundmark has size (6'2" 200 lb), yet is a smooth skater that can jump into an offensive rush (4 goals). The Swedish RHD put up similar numbers to Kovacevic in his rookie season, so hopefully he can follow that development path too and become more proficient offensively. Simon will likely be the first defender to come into the lineup if one of the top 6 needs to be replaced. With Oligny able to switch over to his natural left side, it doesn't really matter if it's a lefty or righty coming out, the answer can always be Lundmark. With 2 years left on his ELC, the 21 year old will look to continue his growth with the Moose next season.
Markus Phillips: Acquired at the trade deadline for long-time Moose Nelson Nogier, Phillips provides a smooth skating depth option on the left side. Originally drafted by the LA Kings in the 4th round (2017), the 6' 200 lb defenseman played only 7 games with Manitoba (2 pts/+3). Phillips was always a + player with the Ontario Reign, so has shown himself to be a capable defender that can occasionally chip in offensively. If the Moose coaching staff don't feel comfortable going with a rookie in an important playoff game but need to replace one of their starters, then the 23 year old LHD would be the choice. Markus will be one of the many RFAs on Chevy's list and will also lose his waiver-exempt status next season. Though, with Winnipeg's depth at the left side, if he is re-signed then it will be to play with Manitoba.
Dean Stewart: Born in Portage La Prairie, MB, the 6'2" 201 lb defenseman is the only player on the Moose suiting up for his home province team. Drafted by the Arizona Coyotes in the 7th round in 2016, Stewart signed a try out contract with Manitoba when the defensive corps were depleted. He turned that into a contract for the rest of the season and has put up 9 pts in 20 games, to go along with a -3 rating. The 23 year old has the 2nd best hockey hair on the team, but also brings good skating and offensive abilities to the table. Despite limited games, the RHD isn't scared to join a rush and often gets the tap on the shoulder for PP time when the regulars are missing. Hopefully Manitoba doesn't suffer enough injuries to require Stewart's services in the quest for a Calder, but he is a decent 3rd option to have in case of emergencies.
.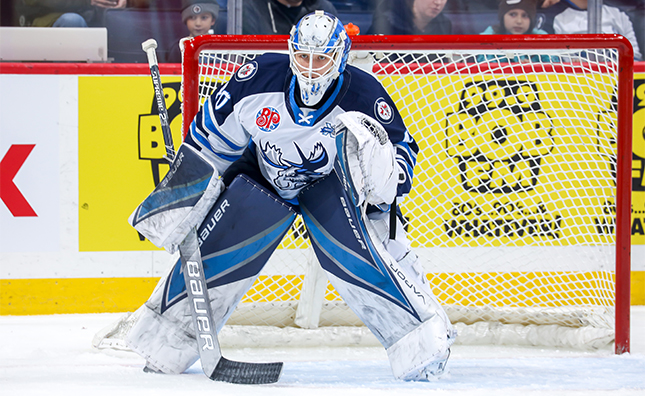 Mikhail Berdin - Courtesy of moosehockey.com
.
Goalies (4)
Mikhail Berdin: Since being drafted by the Winnipeg Jets in the 6th round (2016), Berdin has spent 4 seasons with the Manitoba Moose. A mid-sized goalie at 6'2" 185 lb, the Russian has had his ups & downs in the AHL, with consistency being his main downfall. Mikhail had such a great rookie season (2.34 GAA/.927 save %), but the next two seasons saw his GAA increase to 2.89 and his save % drop to the low .900's. This year, he went 19-10-2-4 & managed to put up a good GAA (2.40) along with a career-high 4 shut outs, but his save percentage wasn't great (.902). Berdin's stickhandling skills are very helpful in Manitoba avoiding the forecheck on dump ins, but they occasionally get him into trouble too. The Birdman is getting hot at the right time though, allowing 2 or less goals in 6 of his last 7 games. I read that Coach Morrison indicated that some hockey people believe two playoff series can equal a year of regular season games in a player's development. If that is true, Berdin needs to make the best of this opportunity if he wants to challenge Comrie for the backup spot next year. The 24 year old goalie has 1 year left on his contract with the Winnipeg Jets, but will have to clear waivers starting next season.
Arvid Holm: Another 6th round draft pick (2017), Holm didn't have the greatest rookie season (2.90 GAA/.877 save %) while amassing a 12-10-2-1 record. However, in 16 of his 24 games he allowed 3 goals or less, so it wasn't all bad (plus 1 shut out). The Swedish goalie has great size (6'5" 205 lb) and when he is at his best, he mirrors Hellebuyck's square-up-the-body/good positioning style. Arvid did put up an impressive 5-2 record when a game went beyond regulation time and was hung out to dry by a lackluster Manitoba effort in a 2 game series versus Abbotsford (12 goals against). The 23 year old tender is signed with Winnipeg for one more year and will likely be backing up Berdin in the AHL next season, unless the Jets can't afford to re-sign Comrie.
Evan Cormier: The New Jersey Devils drafted Cormier in the 4th round (2016), but never could find his game with their AHL team during his ELC. The 6'3" 200 lb goalie started the season with the Newfoundland Growlers of the ECHL (26GP/17-7-2/2.94 GAA/.899) before he signed with the Manitoba Moose. Despite the step up in competition and a depleted Moose roster for most of his games, Evan's play improved in the AHL (14GP/8-3-4/2.72 GAA/.905). The 24 year old goalie's strong play since joining Manitoba has led to him ousting Holm as Berdin's backup.
Philippe Desrosiers: The 26 year old goaltender was signed to a 1 year contract as depth for the Moose midway through the season. A 2nd round draft pick (2013) by Dallas, he had previously signed with both the Stars and the Panthers but hasn't managed to get into an NHL game. Similar in size to Berdin, Desrosiers is 6'2" 196 lb and had a 2-1 record with the Moose (2.54 GAA/.909). While he is an RFA in the off-season, I'm not sure that Winnipeg will be looking to re-sign him unless Berdin makes the jump to the NHL.
.
Continued in Part 2 - Team/Individual Stats & Battle for Playoff Icetime.