World Junior Championship Discussion Thread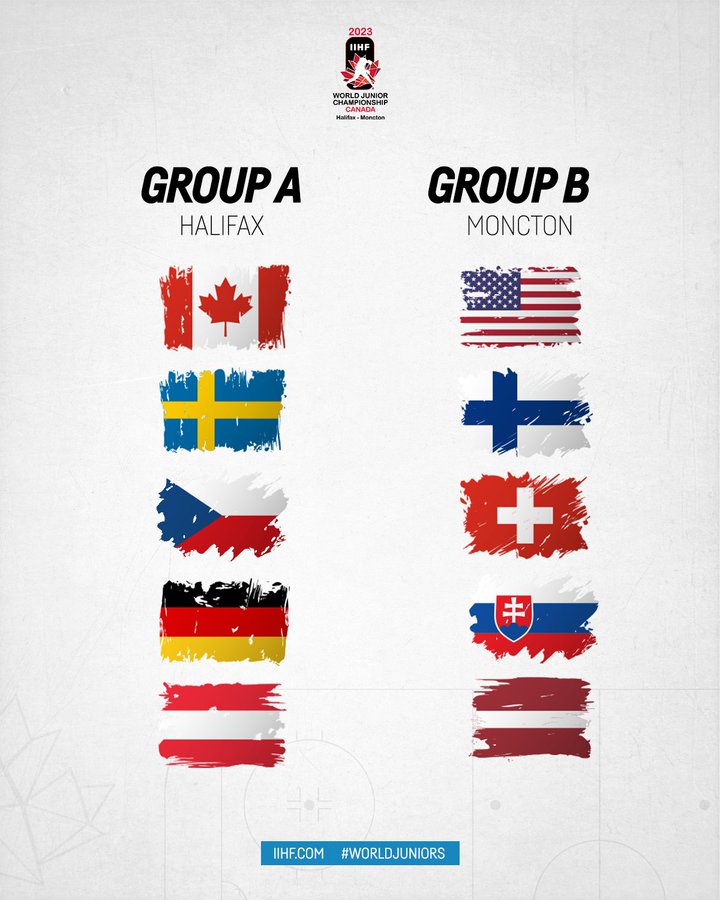 Courtesy of IIHF
.
Boxing Day always brings a smile to my face, and not just because the afterglow of spending Christmas Day eating great food and visiting with family. It's mainly the opportunity to yet again watch the youngest stars of hockey do their thing at the World Juniors that makes me happy.
This year, I will continue to cheer on my home nation of Canada, but since that squad doesn't include any Winnipeg Jets' prospects on their roster, I will also be focusing on how the four Jets' prospects do at this year's tournament.
Brad Lambert - #33 - Finland: The 30th overall pick of the 2022 NHL Draft, Lambert will join the Finnish squad after spending the start of the season with the Manitoba Moose. The young forward started off scoring well in the AHL, but his offense dried up as the season went on. Lambert has the skills to become an impact player, with amazing speed and a powerful shot, but tends to try to do too much himself. Hopefully with time he will start to learn to use his teammates better and find that it's easier to use passing to get into prime scoring situations rather than just using his legs.
From the preliminary games, it appears that Lambert will be centering the 2nd line, playing along side Joakim Kemell (17th pick in 2022 - NSH).
.
Rutger McGroarty - #2 - US: The 14th overall selection of the 2022 NHL Draft, McGroarty has been playing in the NCAA with the University of Michigan this season (19 pts in 20 games). The power forward will get the chance to skate on the American's 2nd line with a fellow Jet prospect at center, as well as getting time on the 1st PP unit.
I haven't seen Rutger play much, so this will be the first time I get to really see what Winnipeg got with their first 1st round pick last year. The US squad should challenge for a gold medal, so McGroarty should have plenty of opportunity to get Winnipeg fans excited about what he will eventually bring to the Jets.
.
Chaz Lucius - #16 - US: After having his year with the Manitoba Moose interrupted by an injury, Lucius is just getting back to full health as the World Junior tourney starts. He was selected by the Winnipeg Jets with the 18th overall pick in 2021 and the young center has shown some skills playing 2nd line center with the Moose.
With the US team, Lucius will be getting time on the 2nd line and is also expected to see time on the powerplay. Chaz has great vision on the ice and a dangerous shot, so the US hopes he can help them have a potent top 6.
After being out-muscled by his elders in the AHL, young Lucius will be hoping to excel in a tournament against his peers. With a great tourney, hopefully it sparks a strong finish to his AHL season.
.
Fabian Wagner - #10 - Sweden: The final Winnipeg Jets prospect was drafted in the 6th round of the 2022 NHL Draft and the young center is expected to play a role in the Swedish bottom 6 at this year's tournament.
The Swede has shown the ability to score in the Swedish junior leagues, but his offense has dried up when he has been promoted to play in the men's league. A total unknown to me, I will be excited to get a glimpse of what Wagner brings on the ice during the tourney in the hopes that Chevy found yet another late-draft gem.
.
Round Robin Games
Dec 26th:
Finland vs Switzerland (10 am CST)
Austria vs Sweden (12:30 pm CST)
United States vs Latvia (3 pm CST)
Canada vs Czechia (5:30 pm CST)
Dec 27th:
Slovakia vs Finland (10 am CST)
Sweden vs Germany (12:30 pm CST)
Dec 28th:
United States vs Slovakia (3 pm CST)
Germany vs Canada (5:30 pm CST)
Dec 29th:
Finland vs Latvia (10 am CST)
Czechia vs Sweden (12:30 pm CST)
Switzerland vs United States (3 pm CST)
Canada vs Austria (5:30 pm CST)
Dec 31st:
Finland vs United States (3 pm CST)
Sweden vs Canada (5:30 pm CST)
.
Feel free to share your thoughts on the World Junior tournament in general or comment on whether the Winnipeg Jets prospects have impressed or disappointed you with their play. Enjoy the games.