.
Manitoba Moose Preview
.
One day after their parent organization, the Winnipeg Jets, opened up their regular season with a win, the Manitoba Moose are set to play their season opener on Saturday afternoon (2 pm CST) against the Rockford IceHogs (Chicago Blackhawks).
After a disappointing first round playoff loss last year, Winnipeg's AHL affiliate hopes to make a deeper run this season despite losing some key pieces: Mikhail Berdin (personal issues), David Gustafsson (WPG), Morgan Barron (WPG), and Johnny Kovacevic (MTL).
There are definitely a lot of Winnipeg draft picks to watch this season on the AHL squad, with the Moose having 11 on their roster including 1st rounders Ville Heinola, Chaz Lucius, and Brad Lambert. Other Jets' drafted players include Daniel Torgersson (2nd), Jansen Harkins (2nd), Simon Lundmark (2nd), Henri Nikanen (4th), Declan Chisholm (5th), Leon Gawanke (5th), Tyrel Bauer (6th), and Arvid Holm (6th).
They also have a few players drafted by other NHL teams: Kevin Stenlund (2nd - CLB), Chris Martenet (4th - DAL), Evan Cormier (4th - NJ), Mikey Eyssimont (5th - LA), and Dominic Toninato (5th - TOR).
.
Here is the full list of coaches and players the Manitoba Moose have at their disposal this season:
* - denotes on contract w/ Manitoba
Head Coach: Mark Morrison
Assistant Coaches: Eric Dubois & Nolan Baumgartner
Goaltending Coach: Drew MacIntyre
Video Coach: Alex Matheson
.
Left Handed Forwards: Jansen Harkins, Dominic Toninato, Daniel Torgersson, Henri Nikkanen, Mikey Eyssimont, Jeff Malott, Alex Limoges, Wyatt Bongiovanni, Evan Polei*, Thomas Caron*, Brandon Cutler*, & Joseph Nardi* (ECHL).
Right Handed Forwards: Brad Lambert, Chaz Lucius, Kevin Stenlund, Kristian Reichel, Cole Maier*, Greg Meireles*, Nicolas Jones*, Isaac Johnson*, Tyler Boland*, & Colin Bilek* (ECHL).
.
Left Handed Defense: Ville Heinola, Declan Chisholm, Austin Sautner, Jimmy Oligny*, & Chris Martenet*.
Right Handed Defense: Leon Gawanke, Simon Lundmark, Tyrel Bauer, Dean Stewart*, & Simon Kubicek*.
.
Goaltenders: Arvid Holm, Oskari Salminen, & Evan Cormier*.
.
Overall, I think Manitoba may have improved their offensive capabilities this season with the additions of some high-end talent (Lucius & Lambert). The Moose have enough experienced forwards to help some of the first year skaters (Torgersson, Nikkanen, & Bongiovanni) find their feet. I expect Harkins and Toninato to play well in the AHL and when you combine that with some proven AHL skaters like Malott, Eyssimont, Limoges, Stenlund, Maier, & Reichel they should be able to score at a decent pace.
When it comes to the defense, there definitely is some talent with Heinola leading the way, but the depth has been hurt by the loss of Kovacevic & Samberg. Gawanke, Chisholm, and Lundmark are all considered solid prospects and will help round out the D core with veterans Oligny & Sautner. Unfortunately, Oligny will be out until at least December with an injury, so that will give Jets' prospect Bauer and Moose-signed d-men (Martenet, Stewart, & Kubicek) a chance to prove what they can do.
With former starter Berdin off to play in Russia for the year, the three Moose goaltenders will fight to see if they can take the #1 goalie spot. Holm is coming off his first AHL season, where he started out well but ran into some consistency issues in the latter part of the year. Cormier has experience at multiple levels and like Berdin can often make highlight reel saves, while Salminen is relatively unknown but played really well in the Jets' Rookie Camp games. In my opinion, both 6'5" Holm and 6'4" Salminen play a similar style to Jets' goalie Connor Hellebuyck, focusing on using their big bodies by being in the right position to get "hit" with the puck. While Berdin was great at times, he did struggle with consistent play at times so it's possible that this year's netminders can raise the performance from the position.
.
I'm the type of person that always plays Franchise Mode in sports games because I really enjoy overseeing the development of prospects and that extends to real-life in following how the Winnipeg Jets' organizational depth is doing. When I look at the current Winnipeg NHL roster, I see a lack of scoring from the forward group, the need for more scoring from the defense, and that the Jets really need a goaltender prospect to show that they have NHL potential.
So, as I watch this year's Manitoba Moose games, I will be watching to see if players like Lambert, Lucius, and Torgersson might be the answer to stronger future forward units on Winnipeg teams.
Of course, seeing how Heinola continues to develop will be a key thing and am hoping to see the young Finn continue to improve his defensive play while getting his point total closer to a point per game. Add to that seeing if Gawanke and Chisholm can take the next step towards becoming NHLers, as well as how Bauer's 1st year and Lundmark's 2nd goes.
When it comes to the masked men in net, I will be watching to see if Holm makes strides in his 2nd season and I think Salminen may end up being a great free agent signing for the organization.
Prior to the Jets' training camp, I would have told you that I was most excited to see how Chaz Lucius did this season, but Brad Lambert's amazing camp jumped him into that position. So much so, that when I got a new kitten to play with my 3 yr old cat Moose, I named him Lambo.
.
At this point, I'm still waiting for the Manitoba Moose & Rockford IceHogs to announce the starting line-ups for today. However, I can confirm that Arvid Holm will get the start for Manitoba and that both Chaz Lucius & Brad Lambert will be on the ice.
Courtesy of the Manitoba Moose website (https://moosehockey.com/), here are today's line-up: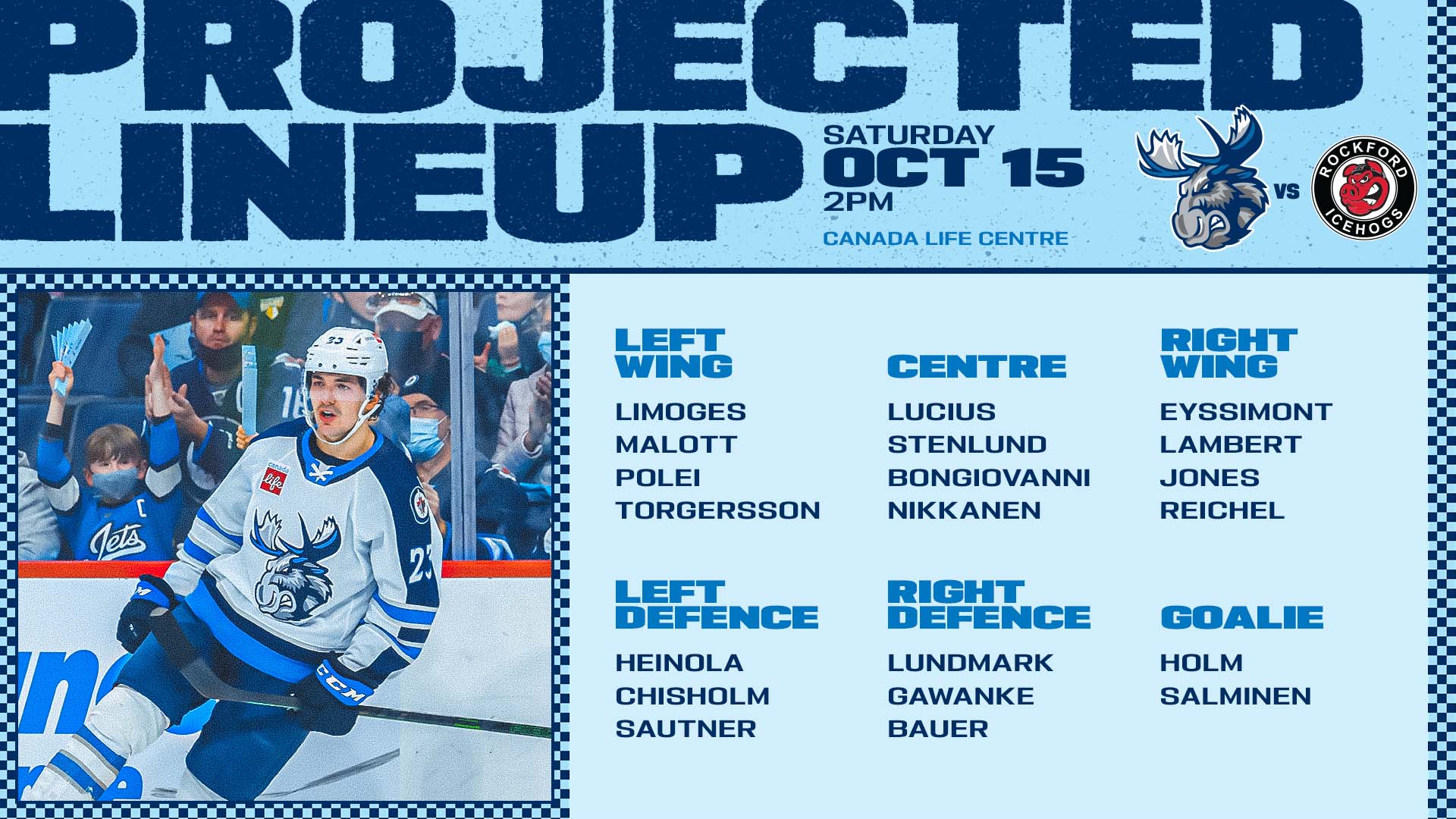 .