A Look at the Manitoba Moose's Goaltenders Play in First Quarter of Season
Yesterday Karlos asked for further information on how the Moose goalies were doing this year and conveniently enough my employer's computer system crashed today, freeing me up to look for something to kill time. Therefore I have attempted to take a look at the goals Mikhail Berdin and Arvid Holm have allowed this year.
First, let me point out that I am far from an expert on goaltending, although I did make the all-star team in house league as a goalie so I have that going for me ;)
Also, I am relying solely on my descriptions of the goals against in the recaps done so far this season. So who knows how helpful this will be...
Through 18 games, the Manitoba Moose have allowed 44 goals against (not including empty net goals), with Berdin letting in 31 and Holm failing to make saves on 13 occasions. I attempted to break down the goals against into categories that hopefully will somewhat display the level of difficulty.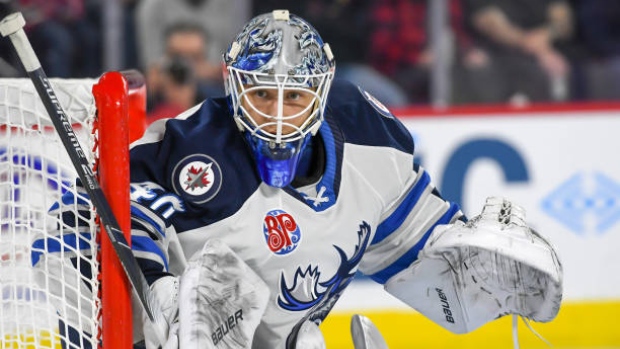 Mikhail Berdin: (31)
Odd Man Rushes: 6
Screened: 4
Shot from Slot: 4
Rebound Goal: 3
Breakaway: 2
Deflection: 2
PP 1 Timer: 2
1 Timer: 2
Bad Goal: 2
Off Defender/Bad Bounce: 2
Defensive Turnover: 1
Good Pass, Tap In: 1
When I look at the above list, it seems that the vast majority of the goals scored against Berdin have come on high danger chances.
The Russian tender did let in 2 goals that fell into the Bad Goal category, the first being a weak angle shot that slipped over his shoulder and the second was due to a bouncing puck hitting him in the chest and confusion with the defenseman over what to do with the rebound.
Arvid Holm: (13)
Breakaway: 5
Off Defender/Bad Bounce: 2
Odd Man Rushes: 2
PP 1 Timer: 1
Rebound Goal: 1
Defensive Turnover: 1
Scramble in Front of Net: 1
Looking at the list of goals against Arvid Holm, they all could fall into the category of "not the goalie's fault". A high number of breakaway goals against might suggest a weakness, but Holm did turn aside all 3 shoot-out attempts he faced this season.