Quarterly Report - Manitoba Moose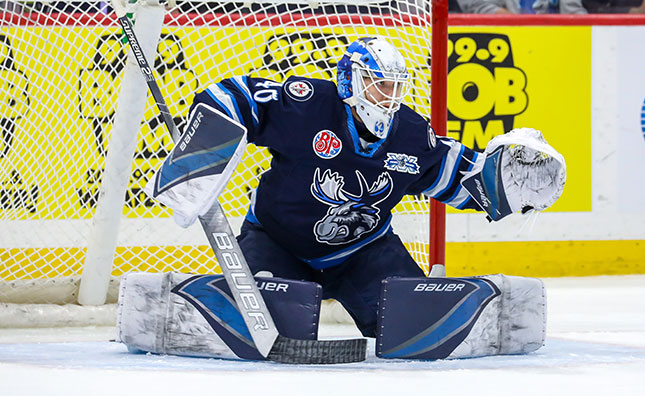 The Manitoba Moose played their 18th game of the season on Sunday, marking the 25% point of their 2021-22 season. Overall, I think the Moose coaching staff will be pleased with what they have seen so far, but that doesn't mean there isn't plenty of room for improvement. Let's take a look at some stats to see how Manitoba has played to date.....
RECORD: 11-6-1 (2nd in Central)
HOME: 7-2
AWAY: 4-4-1
LAST 10: 6-3-1
LONGEST WINNING STREAK: 3 games
LONGEST LOSING STREAK: 2 games
GOALS FOR: 55 (3.05 goals per game)
GOALS AGAINST: 44 (2.44 goals per game)
To see full AHL standings.....
https://theahl.com/stats/standings
From my perspective, the Moose have outplayed their opponents in 17 of the 18 games thus far. They have managed to out shoot the opposition in every game and often control the puck for long periods of their games. Manitoba has continually shot the puck with abandon this year, putting up a season-high 60 shots in one game while their lowest total was a respectable 28.
The coaching staff has had to alter the line-up fairly often in the early part of the season, mainly due to injuries. With the first 2 forward lines (Perfetti/Gustafsson/Poganski and Malott/Suess/Reichel) playing so well right now, I can only imagine how good they will be with Eyssimont and Johnson back in the line-up consistently. It will make a pretty good bottom 6 even more deadly.
KEY INJURIES:
Dylan Samberg - 13 games lost
Luke Johnson - 13 games lost
Mikey Eyssimont - 7 games lost
Players like Suess and Malott started off really slow, struggling to find the back of the net. This combined with the occasional hot opposing goaltender has stopped the Moose from putting together any lengthy winning streaks, despite consistently being the better team on the ice.
Manitoba has gotten offense from almost everyone on their roster, with 16 different players scoring at least 2 goals. Perfetti leads the way with 6, but Gustafsson, Maier, and Eyssimont are right behind with 5. Chisholm and Kovacevic are tied for the team lead in goals (4) by defensemen.
The Moose are also getting offense from the back-end this year, with four defensemen amongst the team's top scorers. Heinola is tied for 5th in scoring for AHL d-men, while Gawanke is in a tie for 9th and Chisholm is tied at 12th.
TOP TEN SCORERS:
Cole Perfetti: 14 pts/.93 pts per game
Ville Heinola: 14 pts/.88 ppg
David Gustafsson: 14 pts/.78 ppg
Austin Poganski: 13 pts/.72 ppg
Leon Gawanke: 12 pts/.67 ppg
Declan Chisholm: 11 pts/.61 ppg
Cole Maier: 9 pts/.5 ppg
Jeff Malott: 9 pts/.5 ppg
Johnny Kovacevic: 9 pts/.5 ppg
Kristian Reichel: 8 pts/.44 ppg
To see full player stats....
https://theahl.com/stats/player-stats/321/73?playertype=skater&position=skaters&rookie=no&sort=points&statstype=standard&page=1&league=4
Manitoba has reduced the amount of rubber their goaltenders face this year, when compared to last season. However, the number of high danger chances have probably stayed the same. The main ways the opposing team get these chances are from turnovers in the neutral zone, long stretch passes that result in odd-man rushes, or failures to clear the defensive end when given a chance.
Both goalies have showed the ability to make big saves at times, which is a good thing since they probably face double digit perilous scoring chances per game. One of the downsides of having an active defense that is willing to join in on the offense is that it can lead to odd-number rushes against.
The Moose have done well standing up at their blueline and forcing teams to dump the puck in. With some good skating d-men on their roster and smart exit passes, they are able to clear the zone quickly most of the time. Manitoba's defense is big enough to use their size to limit opposing team's ability to cycle the puck. It's not often that the Moose are trapped in the defensive end for long periods.
GOALTENDERS:
Mikhail Berdin: 7-5/2.60 GAA/.893 save %
Arvid Holm: 3-1-1/2.56 GAA/.887 save %
1 shoot out win - stopped all 3 attempts against.
Coach Morrison is probably satisfied with how his special team units have performed to start the season.
The powerplay is lead by the #1 unit of Perfetti, Gustafsson, Reichel, Poganski, Heinola. This unit often spends close to a minute controlling the puck in the offensive zone each powerplay. The 2nd unit has had success, especially since Suess and Malott have shook off their slumps and will only get better when Eyssimont and Johnson return from their injuries. Gustafsson leads the team with 3 powerplay goals, while four players (Heinola, Perfetti, Gawanke, & Malott) have 2. Nine different players have at least 1 powerplay goal.
The penalty killing units have been stellar this year for the Moose. They have done an excellent job at winning face-offs, allowing them to quickly get the puck down the ice to start many short-handed situations. After that, they have stood up at the blueline, often creating a turnover and quickly sending the puck down the ice. Other times they force the dump in, where Berdin and the defencemen have made the right moves more often than not and are able to clear the zone. When teams do get set up, Manitoba is able to pressure the puck carriers just enough, while still allowing themselves the time to get back into shooting lanes when needed. Cole Maier and Kristian Reichel both have short-handed goals.
SPECIAL TEAMS:
PowerPlay:
15 of 73 (20.5%)
10th overall in AHL
Allowed 2 short-handed goals against
Short-Handed:
54 of 62 (87.1%)
2nd overall in AHL
Scored 2 short-handed goals
To date, the Manitoba Moose have been the team I thought that they would be. They are securely in a play-off position early in the season and will look to continue to be a consistent offensive threat for the rest of the season. Barring a long-term injury to one or more of the key players, the only other obstacle to a strong finish that I can foresee is if the Winnipeg Jets call up players like David Gustafsson, Cole Perfetti, or Ville Heinola.
The coaching staff will obviously want to improve on the defensive breakdowns that lead to odd-man rushes against. The defense has impressive depth, with Nelson Nogier often being the extra man. Their strong play should only improve as Samberg finds his top form after an ankle injury interupted the start of his season. While part of me doesn't want Oligny taking a prospect like Lundmark's spot in the line-up, his solid play at 5 on 5 and short-handed has been noticeable. Largely due to Samberg's injury, Lundmark has been dressed for 12 of 18 games to start the year, so it should be interesting to keep track of this going forward.