Texas Stars @ Manitoba Moose Recap - Nov 28th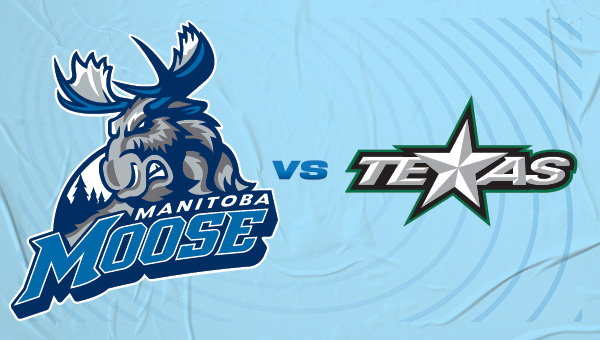 These two teams prepare to face off against each other yet again Sunday afternoon, after the Manitoba Moose took the opening match 4-1 yesterday. The Moose's victory didn't alter the standings of the Central Division at all, with Manitoba and Texas remaining in 3rd and 5th places respectively.
Coach Morrison will continue with the 11 forward/7 defensemen ratio for this game and Mikhail Berdin will get the start on back-to-back days. He did make some small alterations, with Maier & Jones joining Polei on the 3rd line and Meireles & Caron dropping to the 4th.
David Gustafsson leads the way in points (14) coming into today's game, with Ville Heinola (12), Poganski (12), Perfetti (11), and Gawanke (10) following closely behind. Heinola is currently tied for 8th place in defensemen scoring, with Gawanke sitting in 14th. Chisholm and Kovacevic are tied for 22nd.
Berdin's save percentage improved to .895 after a strong showing in the first game versus the Stars (turning aside 27 of 28 shots).
The Texas Stars will go with Colton Point in net today, but otherwise appear to have the same line up as yesterday. The Stars did well yesterday in limiting chances against, but the Moose were able to capitalize when the opportunities did arise. Texas will look to play a similar game this afternoon, using counter-attacks to create their goal scoring moments.
Moose Projected Line Up
Perfetti/Gustafsson/Poganski
Malott/Suess/Reichel
Polei/Maier/Jones
xxxxx/Meireles/Caron
.
Samberg/Kovacevic
Heinola/Gawanke
Oligny/Lundmark
Chisholm
.
Berdin
Holm
.
1st Period Recap:
The Texas Stars had an early chance that was broken up by a pokecheck from Perfetti. When he tried to skate to the lose puck, the Stars Petrovic pulled him down. Manitoba went to the PP with only 38 seconds gone.
The 1st PP unit was able to move the puck around, but a missed cross-ice pass nulified their only good scoring chance. The 2nd group didn't have much time to work with before the penalty expired.
Oligny had a chance when he pinched in from the point, but his shot couldn't beat Point's glove.
Some nice passing from Poganski & Perfetti resulted in a Heinola deflection that just flew over the crossbar.
After Reichel had trouble clearing the zone, the Stars' Gardner got his team's first shot of the game (over 6.5 minutes in) when he stole the puck. Fortunately Berdin was there to make a glove save.
Perfetti drew a second penalty when he broke up another play in the defensive end. As he tried to skate by a defender, he was caught with a knee and sent to the ice.
The Texas Stars did well to line up the blueline, forcing the Moose to dump pucks in. For the early part of the PP, the Stars did a great job of quickly clearing any attempt to enter their zone. It wasn't until the last few seconds that Manitoba had a scoring chance when Jones & Polei combined to set up a 1 timer.
Just past the midway point of the period, the Moose held a 5-3 shot advantage in a what has been a very defensive affair so far.
The 1st line had a dominant shift, pinning the Stars in their own end. They produced a glorious scoring opportunity when Oligny skated the puck in from the point and slid a pass across the front of the net. Poganski was in the right spot, but the puck bounced over his stick and the Stars finally able to ease up the pressure by icing the puck.
Berdin called on to make a couple saves when Texas put on pressure for a shift. A blocked shot in front of the net made Berdin react quickly when a Star quickly shot the puck. Another pad save on a point shot was needed before Texas took a dumb penalty (d-man ran Perfetti into the boards with the puck on the other side of the ice) and sent Manitoba back to the PP with just under 6 minutes left.
A face-off win allowed the Moose to set up on the PP for the first time of the game. The 1st unit pushed hard for over a minute, creating chances for Perfetti and Gustafsson. They kept the puck and moved it around, eventually finding Perfetti again. This time his shot from near the face-off dot found a way through the equipment of Point to give Manitoba a 1-0 lead with 4:40 left.
Moose Goal: Perfetti (6) from Heinola (11) and Poganski (10) - PowerPlay
Texas tried for the equalizer and got a couple of shots during a scrum. They failed to score but did draw a penalty on Meireles, giving them their first PP of the game.
The Stars were able to control the puck from the start and kept pushing for over a minute. Berdin called on to make a couple saves, but the Moose couldn't find a way to clear the zone. Eventually the puck worked its way back to the point and Damaini skated in before rifling a shot by a screened Berdin. Game tied at 1-1 with 2:04 left in the first frame.
Stars Goal: Damaini (5) from Louis (4) and Dellandrea (3) - PowerPlay
Manitoba had a couple of chances to break the tie in the final minutes, the best 2 being when Samberg jumped in from the point and a Gustafsson shot that sailed over the net. Period ended with the teams tied at 1 and the Stars leading in shots (10-9).
Manitoba Shot Leaders: Perfetti (3), Heinola (2)
2nd Period Recap:
The opening minutes of the second saw both teams have shifts where they controlled the puck in the offensive zone, but neither squad could create anything dangerous.
At the 4 minute mark, Berdin was called for playing the puck in a restricted area, giving the Stars their 2nd PP chance of the game.
It took Texas 40 seconds to gain the offensive zone, but Manitoba was able to quickly break the play up & send them back to regroup. Texas struggled to regain the Moose end and were pressured quickly when they did. A solid kill for Manitoba after allowing a goal against on the first opportunity.
A smidge past 6 minutes gone, the Moose had yet to get a shot on net in the 2nd as Texas was starting to tilt the ice a bit.
A nice break up by Chisholm in the neutral zone led to the 1st shot of the period, when he carried the puck in and set up Polei for a 1 timer that was kicked out by Point. They kept the pressure on and the puck worked its way back to Chisholm at the point. He skated in before firing a snapshot by a Polei screen and into the net to give the Moose a 2-1 lead with 10:42 left to play.
Moose Goal: Chisholm (3) from Gawanke (8) and Perfetti (7)
A scrum between Maier and McKenzie led to a 2 minute period at 4 on 4. This opened things up, as both squads had chances. Berdin made a big pad stop as he butterflied to stop a breakaway chance. Chisholm and Perfetti enacted a nice give & go that resulted in Chisholm firing a low shot through Point, giving the Moose a 3-1 lead with just under 7 minutes to play.
Moose Goal: Chisholm (4) from Perfetti (8) and Gawanke (9) - 4 on 4
Polei had a scrap with Gregoire that started out as a wrestling match, but ended in Polei hammering his opponent with punches once he got his arms free.
This game got quite a bit rougher when Damaini slipped into the board & Reichel followed up with body contact to add to the impact. He was quickly jumped by the Stars' McKenzie and all 10 players started to wrestle. Manitoba came out of the melee with a PP with 4:49 left.
A quick chance off the face-off was lost when a puck bounced over Gustafsson's stick after some nice passing from Perfetti & Reichel. The Moose failed to regain the offensive zone, so the 1st unit gave way to the 2nd. The 2nd was able to start moving the puck around the zone and Meireles found Malott to the side of the net. He quickly tried a pass to Jones in the slot, but he fanned on the puck. It trickled back towards Malott and he quickly swiped it towards the net. The shot caught Point by surprise and it found a way through his pads to give Manitoba a 4 to 1 lead.
Moose Goal: Malott (4) from Jones (2) and Meireles (5) - PowerPlay
Moose have gotten 3 goals on 4 shots so far this period...talk about capitalizing on your opportunities.
Samberg turnover in Moose end led to a chance that was blocked by Maier.
During the final minute of play, the Stars controlled the puck but the chances they got were denied by a Caron block and a Berdin save.
Period ended with Manitoba in charge on the scoreboard (4-1), but Texas was on top of the shot count (17-13). Two of the top penalty killing teams coming into the game, but so far today they have struggled - Texas has allowed 2 goals in 4 attempts, while Manitoba has let in 1 goal on 2 chances.
Manitoba Shot Leaders: Perfetti (3), Heinola/Chisholm/Malott (2)
3rd Period Recap:
The Moose started the 3rd period without Kristian Reichel on the bench and the Stars replaced Point with Scheel in net.
Manitoba quickly tested Scheel early, but he was able to turn aside the first couple shots. However, a turnover at the Texas blueline ended up on Maier's stick and he let a wrist shot that beat the Stars' goaltender glove-side just 1:22 into the period. Moose take a 5-1 lead.
Moose Goal: Maier (5) from Gawanke (10) and Heinola (12)
Four minutes into the 3rd, Manitoba had taken the lead in shots (21-18) as they kept their foot on the gas.
Poganski found a streaking Gustafsson at the opponents' blueline and he was just about to be on a breakaway when the whistle blew. The refs ended up calling a penalty on Texas for something that happened behind the play, but no idea why the whistle went before the Stars were able to touch the puck. Regardless, the Moose went back to the PP with 13 minutes to go.
Maier replaced the injured Reichel on the 1st PP unit, but they struggle to create anything before giving way to the 2nd. End to end rushes for both teams as Suess had the puck poked off his stick in the slot and Chisholm broke up a Texas counter-attack.
The Stars spent a couple shifts in the Moose zone, cycling the puck but failing to get a shot on net. Gustafsson finally was able to get the puck and skated it end-to-end before ringing the post with a shot from the top of the face-off circle.
At the midway point of the 3rd, the Moose were leading in shots (22-19) after getting 9 shots in the first half.
The 3rd line created a big chance when a Jones shot was blocked but bounced straight to Maier. He quickly let a shot go but Scheel made a nice blocker save.
The Stars turned the puck the other way and after a good move on a 2 on 2, Tufte found himself alone on Berdin. A quick move and a backhander to the roof allowed Texas to make it 5-2 with 8.5 minutes to play.
Stars Goal: Tufte (6) from Gleason (7)
For the first time of the game, Manitoba started to get a bit sloppy in the defensive end. They were still able to keep the shots against from lower danger areas, but Texas was starting to have the flow of play.
The 3rd line was able to take the play to the Stars for a shift, but missed passes killed any scoring chances.
Gustafsson stripped the puck off a Texas' d-man and danced in front of the net, but Scheel stayed with him giving Gus nothing to shoot at.
A battle won by Caron along the boards led to a dangerous chance for Malott, as Manitoba started controlling play as the period neared an end.
The last 30 seconds were a scramble after the Moose failed to clear their end. A pass from the point found a Star player in the low slot. He quickly turned and fired a shot that found a way thru Berdin's legs. Texas made the game 5-3 with 6 seconds left.
Stars Goal: Caamano (2) from Shea (5) and Back (5)
Manitoba Shot Leaders: Maier (5), Perfetti/Heinola/Malott/Caron (3)
Final Score: MANITOBA 5 TEXAS 3
Shots: MANITOBA 28 TEXAS 24
Final Thoughts:
After 16 straight games with 30 or more shots, Manitoba failed to reach that mark for the 2nd straight game versus Texas. Both teams are very good defensively, especially in the neutral zone where they make it difficult for opponents to skate or pass their way through.
While both squads are strong defensively, they get their offense in different ways. Manitoba relies on gaining the zone and cycling/passing the puck around to create goals, while Texas tries to use the quick attack approach, jumping on turnovers or making stretch passes to light the lamp.
When Declan Chisholm scores, it seems to make him want to do it again right away, as he had his second 2 goal game of the season this afternoon.
The Moose have done well in the first quarter of the season, despite key players having missed games due to injury - Mikey Eyssimont (7) & Luke Johnson (13).
Despite not getting on the scoresheet, David Gustafsson played well. He had his chances and continues to play a strong 2-way game.
3 Stars of the Game:

1st: Cole Perfetti - Manitoba (1 goal, 2 assists)
2nd: Declan Chisholm - Manitoba (2 goals)
3rd: Nicholas Jones - Manitoba (2 assists)

Ville Heinola and Leon Gawanke both picked up a pair of assists today.
Up Next: Manitoba Moose @ Belleville Senators - December 4th @ 6 pm CST