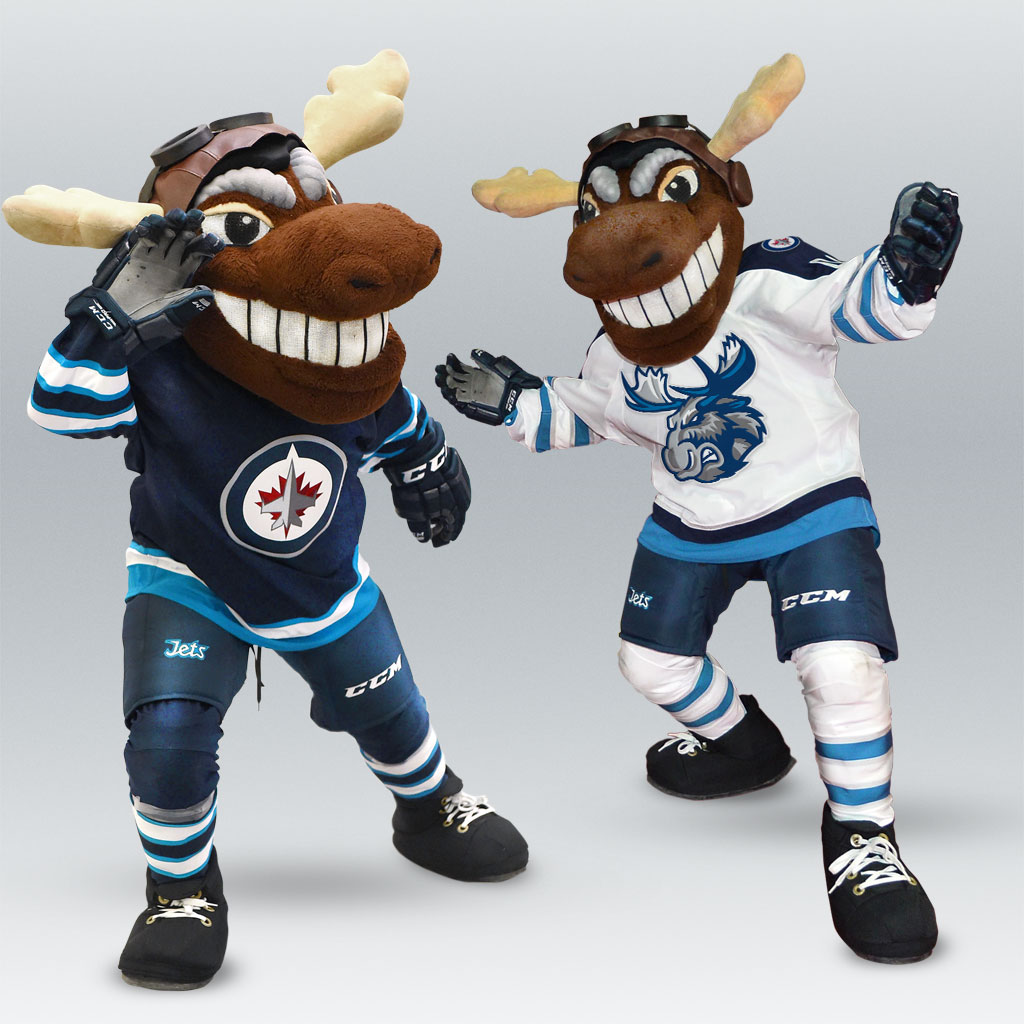 THE MANITOBA MOOSE - DEFENSEMEN PREVIEW:
Nelson Nogier
CONTRACT: 1 yr @ $725,000 AGE: 25 SIZE: 6'2" SHOOTS: R
Nogier first played in the WHL in 2011-12, when he got in 4 games with the Saskatoon Blades (0 pts). The Canadian defenseman became a regular Blade the following year, playing 55 games and picking up his first 4 pts (all assists).
In 2013-14, he continued playing with Saskatoon, dressing for 37 games and scoring a goal & 5 assists. The Winnipeg Jets drafted Nogier in the 4th round (101st) of the 2014 NHL Draft.
The following season saw Nogier starting with the Blades (32 games w/ 8 pts) before moving to the Red Deer Rebels (WHL). Nogier suited up for 38 regular season games (11 pts) with the Rebels and 5 playoff games (1 pt).
2015-16 saw Nogier play a full season with Red Deer, amassing 21 pts in 69 regular season games before chipping in 4 pts in 17 playoff games.
Nogier made his professional debut the following season, playing 60 games (13 pts) with the Manitoba Moose (AHL) and 10 games (0 pts) with the Winnipeg Jets (NHL). Due to injuries, he played limited games the following season.
In 2018-19, Nogier played a career-high 74 games with the Moose while putting up 9 pts. He got into 1 game with the Jets that season, but still couldn't get his first NHL point.
Over the past 2 seasons, he has played 70 games combined with Manitoba, mainly due to being on the taxi squad for the majority of last year.
Despite still being an RFA after his contract expires, realistically Nogier can't really be considered a Jet prospect at this point, not with the multitude of other options. Certainly a solid AHL dman, but I hope that he doesn't steal too many games from the other right-handed prospects listed below. Great insurance against injuries.
Johnny Kovacevic
CONTRACT: 1 yr @ $750,000 AGE: 24 SIZE: 6'2" SHOOTS: R
Kovacevic started his hockey career playing with the Ottawa Jr Senators & the Hawkesbury Hawks in the CCHL, before joining Merrimack College (NCAA) for the 2016-17 season. Over 36 games that season, the Canadian dman managed 3 goals and 16 assists. During the 2017 NHL Draft, the Winnipeg Jets selected Kovacevic in the 3rd round (74th).
For the next 2 seasons, he continued playing with Merrimack, dressing for 34 games (17 pts) in 2017-18, while getting in 31 games (18 pts) the following season. He also saw action in his first professional game in 2018-19, getting a goal & an assist in 1 game with the Manitoba Moose (AHL).
Kovacevic joined the Moose full time in 2019-20 and had a good debut season, putting up 12 pts & a +10 rating over 45 games.
He continued to build on his positive first year during 2020-21's shortened AHL schedule, playing in 29 games while putting up 14 pts.
Johnny Kovacevic impressed with his physical play, puck control, and skating when he got in the lineup with the Winnipeg Jets in the pre-season. He will bring these skills to bear for the Moose this season, possibly on a top-pairing with Ville Heinola, which could lead to a career year statistically. Along with Nogier, the best defensive dmen on the Moose, but Kovacevic has the higher upside offensively.
Dylan Samberg
CONTRACT: 2 yrs @ $925,000 AGE: 22 SIZE: 6'3" SHOOTS: L
Born in Minnesota, Samberg started playing with Hermantown High of the USHS league in 2014-15, where he played 11 games (1 pt). He followed that up with 18 pts in 23 games, as well as playing in 16 games in other leagues.
Samberg continued his development in 2016-17, putting up 28 pts in 25 games with the Hermantown USHS team, while chipping in 4 pts in 3 games with Hermantown High in the MN State league. During the 2017 NHL Draft, the Winnipeg Jets selected Samberg in the 2nd round (43rd).
After joining the University of Minnesota-Duluth (NCAA) for the 2017-18 season, Samberg played in 42 games and amassed a goal & 12 assists. He also chipped in 4 pts in 7 games playing for the USA in the WJC-20 that season.
The following year, Samberg dressed for Minnesota-Duluth in 39 games, scoring 7 goals and 12 assists. He added 2 assists over 7 games playing for the US again at the WJC-20.
In 2019-20, he opted to stay with Minnesota-Duluth to chase a 3rd straight championship, but he only managed to get in 28 games (21 pts) before the pandemic ended the season.
Last year, Samberg made his professional debut, playing all 32 games for the Manitoba Moose (AHL) and ending with a goal and 6 assists. From what I've read and saw last season, Samberg really didn't get going offensively until later in the year. He was big and able to play physical and did make an impact when given an opportunity on the PP or when he had the confidence to carry the puck up ice.
Unfortunately the big American dman was robbed of a chance of an NHL pre-season game when he was injured early in training camp. That injury will keep him out of the Moose lineup initially, with a return expected at some point in November. When healthy, Samberg will have a major impact on how the team plays, whether it is as the 2nd LD or playing on the top pairing with Heinola on his off-side. I expect him to have a strong season in preparation of having a great NHL training camp next year.
Leon Gawanke
CONTRACT: 1 yr @ $796,667 AGE: 22 SIZE: 6'1" SHOOTS: R
After putting up impressive numbers in his native Germany, Gawanke moved to Cape Breton (QMJHL) for the 2016-17 seaason. He debuted with 8 goals & 32 points in 54 regular season game with the Screaming Eagles, while adding 4 pts in 11 playoff games. Gawanke also represented Germany at various levels that season, playing 13 games (5 pts).
The Winnipeg Jets selected Leon Gawanke in the 5th round (136th) of the 2017 NHL Draft.
He played the following 2 seasons with both Cape Breton & the German National team. In 2017-18, Gawanke picked up 32 pts in 62 regular season games in the Q, adding 2 pts in 5 playoff games. In international games, he picked up 16 pts in 14 games for Germany. The next year he amassed a career-high 57 pts in 62 regular season games with the Screaming Eagles, plus 7 pts in 11 playoff games. Again, Gawanke got into some international games, chipping in 10 pts in 12 games.
He joined the Manitoba Moose (AHL) in 2019-20 and had a fantastic season, putting up 26 pts in 48 games. Last season, Gawanke played for 3 teams: Eisbaren Berlin (DEL) - 2 pts in 6 games, Manitoba Moose - 7 pts in 26 games, & International - 8 pts in 26 games.
After a disappointing year last season with the Moose and the thrill of seeing some pre-season action recently with the Winnipeg Jets, Gawanke is hopefully poised to have a big year. There is plenty to be motivated by, from being considered for the German Olympic team to trying to put himself in a position to be the first defenseman the Jets think of when they need to call up a right handed shot. Has shown the ability to put up good offensive numbers at various levels throughout his career, but has to prove he can do it consistently.
Declan Chisholm
CONTRACT: 2 yrs @ $815,000 AGE: 21 SIZE: 6'1" SHOOTS: L
The Canadian dman started his career in the OHL in 2016-17, playing for the Peterborough Petes. He debuted by appearing in 41 regular season games, getting a goal & 4 assists, while chipping in an assist in 12 playoff games.
The following year, Chisholm dressed for 47 games, improving his production by putting up 20 pts, but the Petes failed to make the playoffs.
In the 2018 NHL Draft, the Winnipeg Jets opted to select Chisholm in the 5th round (150th). He continued to improve the next season with Peterborough, running up 48 pts in 67 games, while adding 4 pts in 5 playoff games.
In 2019-20, Chisholm had his best season in the OHL, amassing 69 pts (13 goals) in 59 games for the Petes.
Last season, he made his professional debut with the Manitoba Moose (AHL) and got off to a good start, putting up 13 pts in 28 games.
After attending training camp with Winnipeg Jets this year, Chisholm has the opportunity to possibly get 2nd pair minutes with the Moose while Samberg recovers from his injury. He will likely continue to get opportunities with the 2nd PP unit as well, allowing him to continue with his development.
Simon Lundmark
CONTRACT: 3 yrs @ $850,833 AGE: 21 SIZE: 6'2" SHOOTS: R
In 2017-18, Lundmark started his career with Linkoping HC in the J20 Nationell league, putting up 21 pts in 43 games. The following season, he found himself splitting time with Linkoping in the J20 & SHL. Lundmark managed 17 pts in 25 games in the lower league, while notching 3 pts in 28 games in the SHL.
With the 51st selection in the 2nd round of the 2019 NHL Draft, the Winnipeg Jets made the choice to draft Lundmark.
In 2019-20 Lundmark again split time with the 2 Linkoping squads, dressing in 15 games (8 pts) in J20, while pocketing 3 pts in 40 SHL games. He also got into 6 international games with Sweden, picking up 2 assists.
Last season, Lundmark played 47 games with Linkoping in the SHL, amassing 10 pts.
I have to admit that I know absolutely nothing about Lundmark, other than what I have read. Scouting reports mention things like smooth skating puck mover, very good defensive reads, & positional play is very strong. With the depth that the Moose have on defense, we may see Lundmark eased into North American play, but I hope he can get enough games to show a glimpse of his talents. Being a 2nd round selection, you have to think he will be given opportunities.
Ville Heinola
CONTRACT: 3 yrs @ $863,333 AGE: 20 SIZE: 5'11" SHOOTS: L
Heinola developed his game in Finland, starting to get into international games as early as 2016. His early years were spent with Assat of the SM-sarja league, but in 2018-19 he switched to playing with Lukko of Liiga. He debuted with 14 pts in 34 regular season, adding 4 pts in 7 playoff games. Heinola appeared in numerous competions with Finland that season, putting up 19 pts in 36 games.
As a result of his impressive year, the Winnipeg Jets drafted Heinola with their 1st round pick (20th) of the 2019 NHL Draft.
2019-20 saw Ville play with numerous teams: Finland - 14 pts in 21 games, Lukko (Liiga) - 7 pts in 29 games, Manitoba Moose (AHL) - 1 pt in 3 games, & Winnipeg Jets (NHL) - 5 pts in 8 games.
Last season saw much of the same for Heinola, as he once again played with 4 different teams: Finland - 4 pts in 7 games, Lukko (Liiga) - 14 pts in 19 games, Moose (AHL) - 11 pts in 19, & Jets (NHL) - 0 pts in 5 games.
This season, Heinola got into plenty of pre-season games, but barring injury or bad play by the players above him on the depth chart, he is looking at another season with the Manitoba Moose. He will get plenty of opportunity to develop his skills with 1st pairing ice time at his disposal. Despite not having a very strong training camp, it is clear to see how talented Heinola is and makes it easy to forget that he is the youngest of the Jets defense prospects.
I expect nothing less than a great year if Ville remains with the Moose for the entire year & wouldn't be shocked if he flirts with being the highest scoring defenseman in the AHL. However, being the first in line to be called up to the Jets, he might not get the number of games required to do that. Smooth skating and typically good with the puck, he has to work on his consistency in making the correct decisions to maintain his body position in the defensive end. Being undersized, positioning is key if Heinola wants to be as good in the defensive zone as he is in the offensive.
COMING SOON: FORWARD PREVIEW