The Winnipeg Jets take on the Colorado Avalanche tonight In Denver Colorado. After a horrifying and sad home stand, will the Jets be able to pull off a win tonight?
No. Wait. That question deserves an answer before the game. The answer should be "NO." No, they cannot. At this point in the season, my friends, I'm giving in to the absolute tank job the Jets have been working on all season. It's time. Viva la tank. Bring me Auston Matthews.
Keys to the Game
Winnipeg Jets
1) Do nothing. For real. Fall over every 10 seconds. Give the puck away to the Avalanche on a silver platter every change you get. Play Mark Stuart for every shift. Blindfold Byfuglien. Tie Hutchinson's arms behind him. If it's Hellebuyck in net, make him wear his helmet backwards. Do whatever you can to do nothing positive. Just give in to it. Also, penalties. Take lots of those. Do stupid stuff. Be awful. I believe in you. I know you can do this.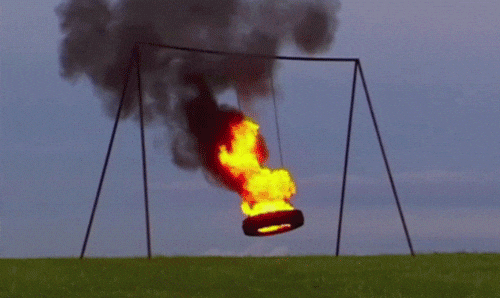 Colorado Avalanche
1) Shut them down. Whatever those Jets try to get going in their favor, shut it down. There's no need for that nonsense. Fight Byfuglien. Beware of what Mark Stuart can't possibly accomplish. Connor Hellebuyck has been having a rough season and if he's in net you'll have an easier time of getting goals. I'm sorry Hellebuyck, I heart you but it's true.
2) I honestly have no idea. I hear Semyon Varlamov is back or something and is ready to get back into action after being away for a couple of weeks dealing with some legal matters stemming from the domestic violence allegations against him. I have no idea what this means. I know nothing of the Avalanche besides the fact that they employ Jarome Iginla (who needs to score some goals, thanks) and my favorite one eyed yeti monster Carl Soderberg. I was probably the worst choice for this preview. Oops.
Player to Boo Mercilessly
Andrew Ladd. Mostly because of this, from Yahoo Hockey's preview:
"We got going," captain Andrew Ladd told the team's official website. "We got our legs going, we got moving. It's pretty simple. There's no special formula. We should understand by now, what needs to happen right from the drop of the puck for us to be successful, and that's moving and being on the puck."
Stop that, Andrew. That's the opposite of a tank.
Prediction
Jets -2
Avalanche 27