Honk honk! All aboard the Strugglebus!
Well.... that was hockey I guess. It was not the outcome the Jets had hoped for as they fell to the Senators 3-1. Let me tell you though that they were lucky to even get that one with Super Hamburglar in goal for the Senators. More on that magicman later.
A Variety of Thoughts
-Not a lot of penalties tonight! Only 2 for the Jets and three for the Senators (two for Mr. Erik Karlsson). This is a pretty big change from how the Jets were playing before, but that doesn't mean that they had a good game. Oh no. No, no, no.
-Speaking of the Magical Mr. Karlsson, my goodness was he ever all salty and hateful tonight! Did anyone else hear him audibly swearing on their Sportsnet feed? I sure did. Simmer down, Erik.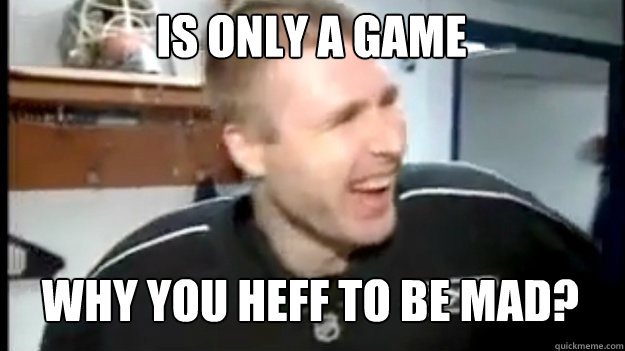 (Ilya Bryzgalov isn't relevant anymore, you say? Well, have I got some news for you. Bryz is always relevant in my world. I heart him with the parts of my heart not reserved for Tyler Myers, Patrice Bergeron, cake or my husband).
-Dustin Byfuglien was doing pretty good Byfuglien things tonight such as this:
Buff came in like a wrecking baaaaall https://t.co/ljaprXm0r7

— Ian McLaren (@iancmclaren) March 5, 2015
(Also, Ian is one of my favorite people and if you're not following him on twitter, you're doing it wrong.)
That was fun. What wasn't fun was watching him leave the game with some sort of fluke injury. It's been announced as an upper body injury and it definitely looked like something went wonky with his right shoulder. Eep. Losing him will be probably awful for the team going forward, especially if he's unavailable for a huge chunk of time. Not good. I miss you already Buff.
-Can't talk about this game without mentioning the number one star in my mind, Mr. Andrew Hammond. Who is this guy? Where did he come from? What? Why?
Andrew Hammond this is getting ridiculous.. #Sens https://t.co/hKmlAmfwsF

— Callum Fraser (@CallumFraser18) March 5, 2015
(Remember what I said about Ian above? Ditto Callum.)
Seriously. I don't know much about Hammond, but tonight he was absolutely excellent. I mentioned on twitter earlier that this recap was shaping up to largely be gushing about his skill and bitching about him at the same time. He was definitely one of the biggest difference makers out there on the ice tonight because....
-Checking in with the Church of Corsi shows us this:
@arcticicehockey #ChurchOfCorsi chart. domination by Jets. Sometimes you lose to crappy teams riding a hot goalie. pic.twitter.com/JrEXY5CiaI

— Claude Saindon (@amatoudi) March 5, 2015
Huh. So, the Senators weren't actually that great tonight when it came to putting the puck on net. They should be kissing Hammond and buying him nice things for being so good tonight.
-Not hockey, but this just happened and it made me giggle.
I just emailed Sam Katz and urged him to put "Fuelled by Poisson" on a Wpg Goldeyes T-shirt just to see what True North does in response.

— Bartley Kives (@bkives) March 5, 2015
-Michael Frolik scored the Jets only goal of the game with the assists going to Lee Stempniak and Tyler Myers. Thanks new kids! For the most part though, this game looked like a struggle for everyone.
-Speaking of struggling, Michael Hutchinson had some issues tonight and was eventually pulled in favor of Ondrej Pavelec.
Maurice: didn't think Hutchinson looked comfortable.

— PATRICK WILLIAMS (@pwilliamsNHL) March 5, 2015
He didn't look that comfy, that's for sure. All three goals were scored against him tonight and I just felt bad for the guy. I still adore him though, he just wasn't good tonight. It happens. Say what you want about Pavelec, tonight he was the better goalie (And yes, I just threw up in my mouth a little when I wrote that).
(Love you Pavs, just wish you were consistent)(Seriously).
I have no more thoughts. This was a game of hockey in which the Jets lost. They head out on the road for four games against much tougher opponents than the Senators and I just hope that they are able to get some valuable points.