The Winnipeg Jets welcome to the Washington Capitals to the MTS Centre tonight. Both of these teams are sitting in Wild Card spots for the playoffs but the Capitals have a tiny bit more wiggle room than the Jets to in their current spot with the Boston Bruins 5 points behind them. The Jets are one point behind the Minnesota Wild in the last wild card spot with the Los Angeles Kings behind them.
This is the point of the season where hockey gets really, really exciting. The race for the playoffs can be some of the best hockey you'll ever watch, minus the playoff games themselves of course, and I hope tonight brings a fast paced, incredibly fun game to the viewers.
Keys to the Game
Winnipeg Jets
1) I say this pretty much every preview because it's truth every game: Whoever the goalie is, they need to be stellar. With the likes of Alex Ovechkin and Nicklas Backstrom on the ice for the Caps, this rings true tonight as well. Ovi is scary good. There, I said it. I am not a huge Ovechkin fan, he irritates the everloving crap out of me, but it's because he is just damn good at hockeying. If the goalie in is Ondrej Pavelec, he needs to be as on point as he was last game against the Blues.
Do this. Lots of this. All of this. This was beautiful and expected and it made me have a tiny bit of love in my heart for Ondrej Pavelec.
Ondrej Pavelec makes a diving stop on TJ Oshie #NHLJets #stlvswpg https://t.co/5DrmnoPmgR

— M Remis (@mremis) March 20, 2015
2) The Jets are going to have to be sneaky to get the puck past Braden Holtby. This guy gives me nightmares. He has proven that he can be a monster in net and the Jets can't be looking for that ultrapretty one timer to go in. At this point, I'm merely assuming that Holtby will be in and the Jets need to be ready to create traffic around the net, throw a bunch of pucks at him and make those ugly little plays instead of those fancypants plays in order to sneak a few past him.
3) Tyler Myers.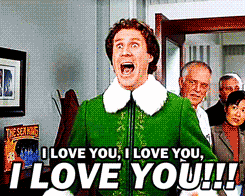 Washington Capitals
1) Not so bold prediction: Ovechkin gets the puck and scores a goal. Yep. That's all I have in this area. If this doesn't happen tonight, I will be very surprised.
2) The Jets have proven a few small things this year and one of those is that they aren't to be taken lightly. The Capitals should be well aware at this point that these Jets are different from the Jets of the past few years and though they still have struggles and have really frickin' terrible games, they're improved. Don't underestimate players like Mark Scheifele and Drew Stafford. Stafford appeared to be almost a throw in when it came to the Buffalo/Winnipeg trade, but he has become a pretty decent player for the Jets. Scheifele has had challenges this season, but these last few games have shown us tiny glimpses of what he's capable of.
3)
As per usual, make those Jets take stupid penalties. If you can get them angry and frustrated, they tend to make poor life choices that you can easily capitalize on depending on who's in net. Or not depending on who's in net. Goalieing with the Jets has been kind of a crapshoot lately with Michael Hutchinson having some very un-Hutch games and Ondrej Pavelec being a superstar.
Player to Boo Mercilessly
It would be really easy to say the obvious here: Alex Ovechkin. Another easy, obvious choice: Braden Holtby. Looking at the Capitals roster though, I see that you could make a case for booing any one of them. John Carlson? Boo. Evgeny Kuznetsov? BOO.
Prediction
Jets lose.
3-1.
Sorry.