Ken Wiebe wrote about the Mathieu Perreault acquisition recently and something he said really caught my eye:
I want to say -prior to continuing with this article- that Wiebe is a very good guy. He's always been open to interact respectfully with fans including members of Arctic Ice Hockey. I am a big fan of his. Plus he is far from the only person who has made this suggestion. I am simply using his comment as a springboard into what I feel is an important conversation about how the concept of size in the NHL can be overstated.
Also, Ken's blog is awesome. Read it here.
Honestly, I think size is overrated. Overrated does not mean it doesn't have a benefit or value at all. Just that people value it more than it is worth. I just think strength and size is one of many, many aspects that make up the total package of a player. Having more size can be advantageous to a player, ceteris paribus; however, there are other things that can potentially make up for a size difference between two players: speed, smarts, effort, etc.
The claim that Jokinen's size was an asset in allowing him to match up against the west's top & big centres is an interesting one, but that doesn't mean it holds water.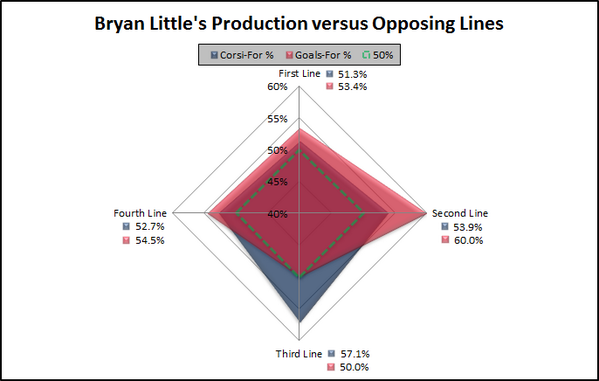 The above chart shows that Little outscored and out possessed other teams' first lines. Size didn't stop him. Most of that sample is in the Western Conference and he out performed them when they were matched against.
Of course, Perreault isn't Bryan Little, but neither is Olli Jokinen.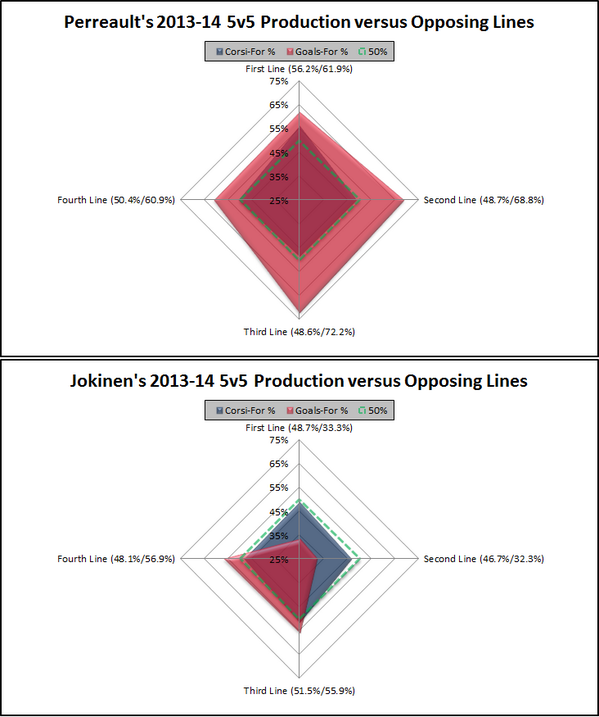 Corsi% is the more important statistic to pay attention to, as Corsi% predicts future goal% better than past Goal%. In other words, Corsi lets you know who is most likely to outscore their opposition, which is the whole point of the game.
What we see here is that Perreault did better than Jokinen against first, second, and fourth line players. Both players playing in the west, and therefore mostly against the big centres of the west.
For fun, here is how much better (or worse) some of the top centres in the western conference performed in ZS Adjusted Corsi* against Olli Jokinen versus away from Jokinen.
*removing the first few seconds after a non-neutral zone faceoff to reduce the effect of zone starts.

| | |
| --- | --- |
| STASTNY, PAUL | +17.3% |
| KOIVU, MIKKO | +13.1% |
| NUGENT-HOPKINS, RYAN | +9.3% |
| SPEZZA, JASON | +8.9% |
| GETZLAF, RYAN | +8.8% |
| MARLEAU, PATRICK | +5.8% |
| RICHARDS, BRAD | +5.0% |
| BACKES, DAVID | +3.1% |
| O_REILLY, RYAN | +2.9% |
| SEDIN, HENRIK | +2.9% |
| TOEWS, JONATHAN | +2.8% |
| DUCHENE, MATT | +2.5% |
| CARTER, JEFF | +1.7% |
| THORNTON, JOE | +0.9% |
| GRANLUND, MIKAEL | 0.0% |
| VERMETTE, ANTOINE | 0.0% |
| SEGUIN, TYLER | -0.3% |
| KOPITAR, ANZE | -2.6% |
| KESLER, RYAN | -5.6% |
| STAJAN, MATT | -7.8% |
The sample is from stats.hockeyanalysis but some are 2011-14, while others are 2013-14 (neither sample had all of these players so I just took 2013-14 unless they were only available in the 2011-14 sample). This would normally be a big no-no for any in depth analysis but we are just trying to take a simple glance to see if there are any trends.

Some of these WOWYs are made with samples as small as 15 minutes, so there is no real information given in the exact values. The take home is the trends, that these players tend to do better against Jokinen than they normally do.
Looking at 2011-14 period, there are only 30 centres both Jokinen and Perreault faced off against for at least 15 minutes of five-on-five hockey. Perrault out performed Jokinen for nineteen of them.
Despite his obvious size advantage, it doesn't look like Jokinen is better equipped to shut down big centres than Mathieu Perrault. And with Jokinen's recent signing in Nashville, we may get to see them go head to head.
Thanks to Japers' Rink for the charts!